Erik Rempen, game designer solista del nuovo entusiasmante costruttore di villaggi roguelite Kainga: Seeds of Civilization ospiterà livestream con contenuti inediti e sessioni di domande e risposte degli sviluppatori allo Steam Next Festival a partire da oggi. Non è tutto; potrai anche scaricare una nuovissima demo giocabile del gioco direttamente dalla pagina Steam e muovere i primi passi nel bellissimo ambiente di gioco generato proceduralmente nei panni del Pensatore del villaggio. 
Kainga: Seeds of Civilization si sta attualmente dirigendo verso la fine di una campagna Kickstarter di successo in cui l'obiettivo iniziale è stato finanziato nei primi 16 giorni e il primo obiettivo è già stato superato.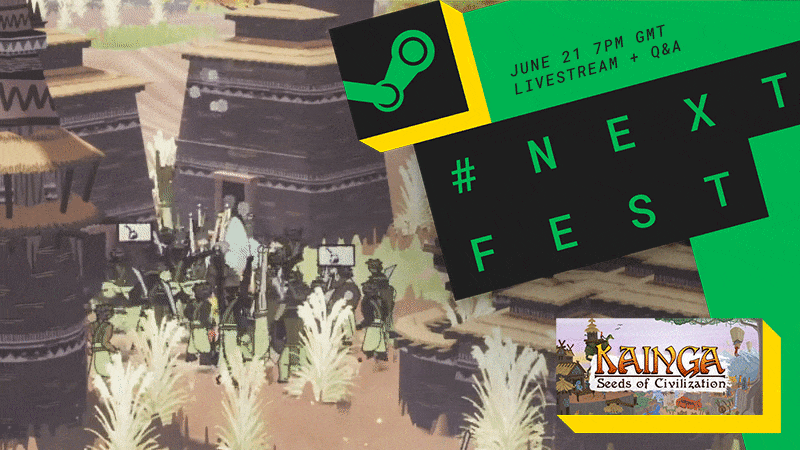 Per Kainga: Seeds of Civilization sono in programma due livestream e sessioni di domande e risposte per gli sviluppatori durante lo Steam Next Festival, in cui Erik presenterà una demo di una nuova build del suo gioco e introdurrà le principali meccaniche di gioco e svelerà nuovi luoghi. Vai alla pagina Steam alle 19:00 BST/8pm CEST/2pm EDT/11am PDT il 16 e 21 giugno per guardare l'evento in livestream e partecipare alla chat.
Infine, il 16 sarà disponibile anche un'emozionante demo giocabile per il download dalla pagina Steam, che ti darà il tuo primo assaggio di vita da Pensatore, il capo del villaggio. La tua gente si rivolgerà a te per prendere le decisioni importanti necessarie per trasformare il tuo umile fuoco da campo in un fiorente villaggio. 
Argomenti correlati a:
Roguelite Village-Builder "Kainga: Seeds of Civilization" apre i suoi cancelli allo Steam Next Festival
---