Top Right Corner annuncia che il suo titolo di escape room in realtà virtuale, The Atlas Mystery è ora disponibile su Steam, Meta Quest (tramite App Lab) e Viveport. Ambientato in un lussuoso palazzo cinematografico degli anni '40, The Atlas Mystery invita i giocatori a risolvere enigmi impegnativi e scoprire la scioccante verità dietro l'oscura storia del teatro.
Creato in collaborazione tra Hollywood e veterani dell'industria dei videogiochi, The Atlas Mystery unisce le due forme d'arte attraverso l'obiettivo della realtà virtuale per immergere i giocatori in un mondo dettagliato e accattivante ispirato al cinema classico e ai giochi di avventura come Myst . 
The Atlas Mystery combina impegnativi enigmi in stile escape room con un'avvincente narrativa investigativa piena di colpi di scena scioccanti e rivelazioni inquietanti, immergendo i giocatori in un emozionante mistero di omicidio soprannaturale. I giocatori assumono il ruolo del nuovo direttore di sala del teatro e devono risolvere una serie di enigmi sempre più peculiari per scoprire alla fine la verità contorta dietro il famigerato teatro.
"Sono entusiasta di aprire le porte dell'Atlas Theatre e invitare i giocatori a immergersi in un mondo ricco di atmosfere e dettagli ispirato dal mio amore per il cinema classico", ha affermato Eric Kleifield, sceneggiatore e co-produttore del gioco. "Ci siamo sfidati a costruire un vero e proprio palazzo del cinema ricco di ricca mitologia e ore di gioco. Ogni oggetto e ogni enigma che scopri si intreccia in un intricato mistero di omicidio che dovrebbe rendere felici i fan dei puzzle e delle stanze di fuga.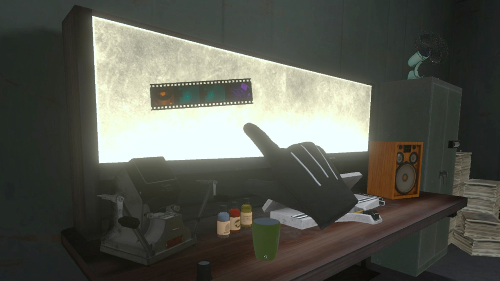 "Come qualcuno con un background sia nella produzione di film che nella realizzazione di giochi, The Atlas Mystery è stato un vero spasso da creare per me e per il team dell'angolo in alto a destra. Pieno di dozzine di enigmi e di un classico mistero hollywoodiano da dipanare, Atlas si rivolge agli appassionati di VR che sperano di scomparire dietro il grande schermo", ha affermato Dan Clifton, fondatore di Top Right Corner.
La colonna sonora di The Atlas Mystery è una parte importante dell'autenticità cinematografica del gioco ed è stata composta dai talenti di Hollywood Evan Goldman (compositore aggiuntivo di The Falcon and the Winter Soldier , Detective Pikachu ) e Chris Ryan (orchestratore di Shazam !). La colonna sonora originale di Atlas Mystery uscirà la prossima settimana su Steam e altre piattaforme di streaming audio.
Argomenti correlati a:
Il gioco VR Escape Room "The Atlas Mystery", ora disponibile su Steam, Meta Quest e Viveport
---