YU-NO: A girl who chants love at the bound of this world., l'avventura e visual novel arriverà in Occidente il 1° ottobre 2019 per Nintendo Switch, PlayStation 4 e Steam.
L'edizione di Nintendo Switch Day 1 include a codice del buono per 8-bit YU-NO'S GREAT ADVENTURE. Prova un gioco d'azione ambientato in un classico Stile a 8 bit con i personaggi di YU-NO! PlayStation 4 Day 1 Edition include un mini poster di stoffa con Eriko Takeda, la misteriosa infermiera scolastica dell'Accademia Sakaimachi.
GUARDA IL TRAILER:
A proposito di YU-NO: A girl who chants love at the bound of this world.
• Il tuo amore attende oltre questo mondo.
• Durante le sue vacanze all'Accademia Sakaimachi, Takuya Arima riceve un pacco dal suo padre apparentemente deceduto. Contiene il misterioso dispositivo Reflector che consente all'utente di viaggiare tra mondi paralleli.
• Con l'aiuto dei suoi amici, insegnanti e amanti, Takuya deve portare alla luce il suo mistero, l'eredità del padre per prevenire una calamità che minaccia di avvolgere la realtà stessa.
Caratteristiche principali
– The Power of the Reflector: esplora più timeline e rivisita gli eventi attraverso l'unicità meccanica di gioco del dispositivo Reflector. Questo ti permette di esplorare ogni timeline in dettaglio. Attiva il sistema di divergenza automatica del dispositivo del riflettore per tornare a un evento con altra conoscenza e nuovi oggetti.
– Indizi di tuo padre – Risolvi tutti i misteri di Sakaimachi per scoprire i segreti mentendo sotto il capo della spada. Raccogli gli oggetti da una timeline e usali nella prossima per sbloccare La verità nascosta di Sword Cape.
– Love Beyond Worlds – Riesci a trovare il mondo nascosto che aspetta oltre Sakaimachi? Innamorati di ogni personaggio per raggiungere il vero finale di questo romanzo visivo di oltre 40 ore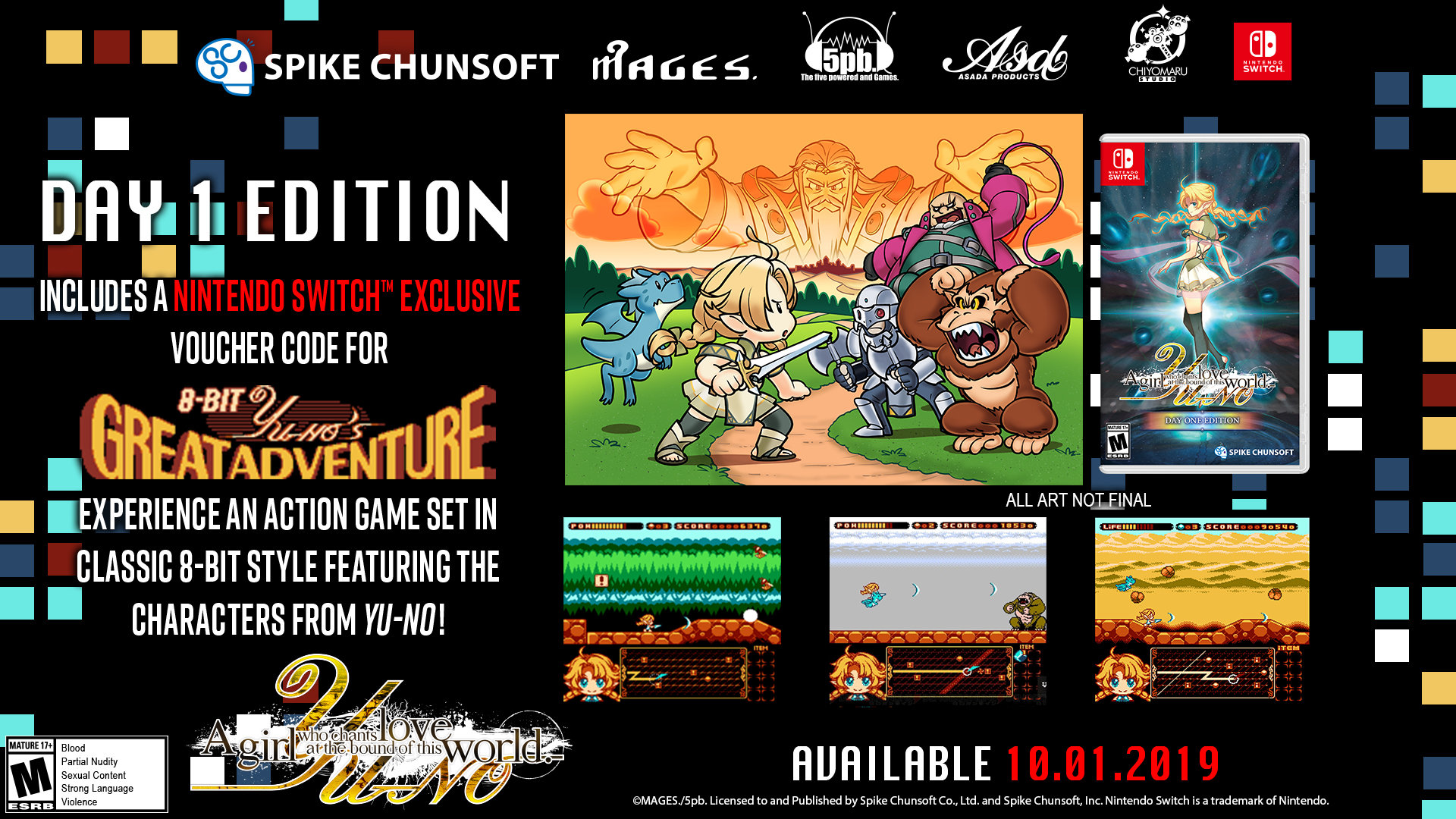 Argomenti correlati a:
YU-NO: A girl who chants love at the bound of this world. arriva a ottobre per Switch, PS4 e PC
---