In occasione della festa per il trentesimo anniversario dalla nascita della software house, Ubisoft e Sony pensano ai propri fan, garantendogli sconti fino ed oltre il 60% su parecchi titoli per console PlayStation 4, PlayStation 3 e PS Vita, titoli di alto profilo, ma anche parecchi DLC e contenuti aggiuntivi o espansioni a prezzi molto contenuti.
L'anniversario numero 30 di Ubisoft permetterà quindi agli amanti di titoli e saghe del calibro di FarCry, Assassin's Creed, Rainbow Six, di potersi accaparrare titoli primo piano a prezzo vantaggioso: un'occasione unica e rara per poter avere a disposizione i migliori giochi per PS4, PS3 e Vita. Vediamo quali sono inclusi e anche i DLC e contenuti aggiuntivi a prezzi scontatissimi.
Analizziamo tra gli sconti per il 30° anniversario quelli sicuramente più in vista: tra questi spiccano ad esempio gli ultimi della serie FarCry: Primal, con il gioco standard completo scontato addirittura fino al 68%, e che passa dai canonici 70 ai 22 euro senza battere ciglio. Stessa cosa vale per la 'Apex Edition' che include anche tutti i contenuti aggiuntivi oltre al gioco principale, che viene scontato del 66%, da 75 a 25 euro. La Apex è un gioco mastodontico, infatti include anche: LEGGENDA DEL MAMMUT: 3 missioni aggiuntive; UNA NUOVA ARMA, LO SHASTI INSANGUINATO; 4 PACCHETTI PER I MIGLIORAMENTI (Pacchetto gufo, Pacchetto smilodonte, Pacchetto mammut, Pacchetto bombe), niente male davvero e il prezzo è disponibile solo fino al prossimo 6 di ottobre 2016. Disponibile anche il penultimo dei FC, il 4 con sconti elevati: il gioco completo FarCry 4 è proposto a 15 euro, mentre la Gold Edition a 25 euro e comprende tutti il pass stagionale completo.
Da non sottovalutare anche gli sconti, ovviamente, sui vari titoli Assassin's Creed. L'ultimo dei tantissimi, Syndicate, è ambientato a Londra, e viene proposto scontato del 50% (20 euro invece di 40 euro se si possiede account Plus), mentre l'edizione Gold, con tutti i pacchetti aggiuntivi o Season Pass (compreso l'atteso Jack Lo Squartatore) viene prezzata fino al 6 ottobre, e in onore dei 30 anni di Ubisoft, a 28 euro invece di 70. Ovviamente gli sconti interessano anche i titoli della saga con più tempo alle spalle, sia per PS4 che per PS3, come AC Unity, nella sua versione per PS4 viene proposto a 15 euro, AC Black Flag a 12 euro, entrambi con sconto che supera il 60%. Mentre per chi, invece, non ha mai acquistato nessuno dei tre titoli, il pacchetto Assassin's Creed (Syndicate+Unity+Black Flag) viene proposto a 40 euro. E stiamo parlando di tantissime ore di gioco, per non parlare gli anni di sviluppo.
Anche la saga Tom Clancy's è direttamente interessata dagli incredibili sconti Ubisoft e PS: i giochi standard completi di The Division e Rainbow Six Siege vengono proposti infatti, il primo (e ultimo ad uscire in termini di date) a 30 euro con oltre il 57% di sconto, il secondo invece a 25 euro. E con essi scontati anche le edizioni gold e tutti i contenuti aggiuntivi da non perdere per tutti quelli che dispongono dei titoli standard.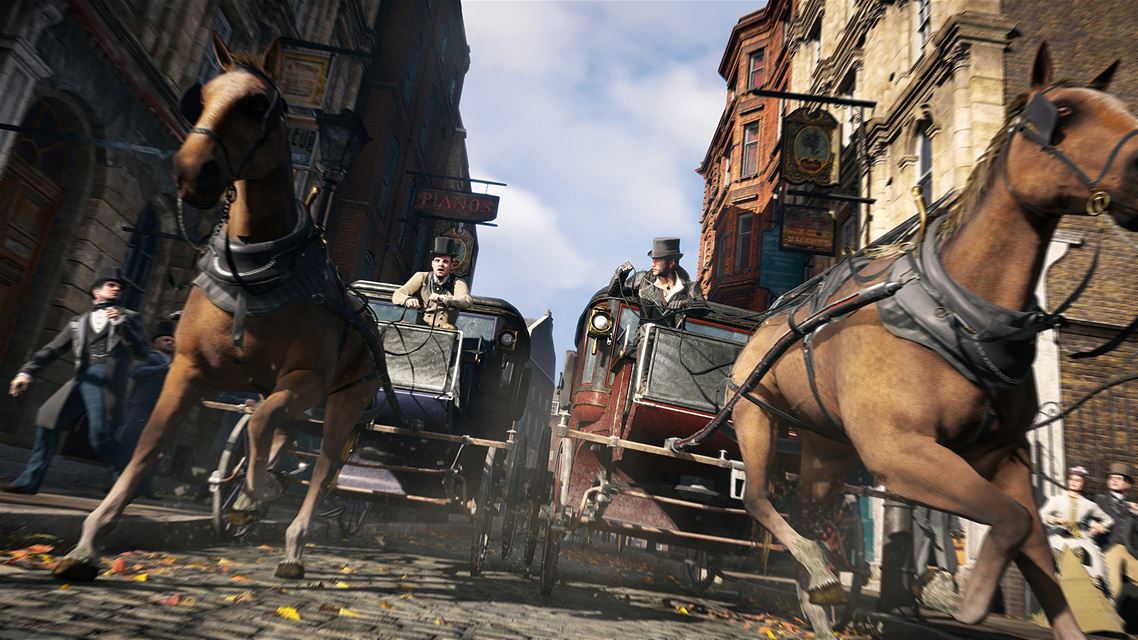 Ma le offerte sono tantissime, e per tutti i gusti: con The Crew per gli amanti delle auto e delle corse, Trial Fusion, per quelli che preferiscono le due ruote, Watch Dogs, Monopoli Plus e ancora tantissimi titoli e dlc scontatissimi da non perdere.
Ecco l'elenco completo:
PS4
Access Granted Pack
AirMech® Prime Cube
AirMech® Prime Pack
AirMech® Starter Pack
Assassin's Creed® Chronicles: Russia
Assassin's Creed® IV Black Flag Illustrious Pirates Pack
Assassin's Creed® IV Black Flag™ – Freedom Cry
Assassin's Creed ®IV Season Pass
Assassin's Creed Syndicate – Jack the Ripper
Assassin's Creed Syndicate – Season Pass
Assassin's Creed Syndicate – Steampunk Pack
Assassin's Creed Syndicate – Streets of London Pack
Assassin's Creed Syndicate – Victorian Legends Pack
Assassin's Creed Unity HELIX CREDITS – EXTRA-LARGE PACK
Assassin's Creed Unity HELIX CREDITS – LARGE PACK
Assassin's Creed Unity HELIX CREDITS – MEDIUM PACK
Assassin's Creed Unity HELIX CREDITS – ULTIMATE PACK
Assassin's Creed® Chronicles – Trilogy
Assassin's Creed® Chronicles: China
Assassin's Creed® Chronicles: India
Assassin's Creed® Freedom Cry
Assassin's Creed® IV Black Flag™ – Standard Edition
Assassin's Creed® Syndicate
Assassin's Creed® Syndicate
Assassin's Creed® Syndicate – Helix Credit Extra Large Pack
Assassin's Creed® Syndicate – Helix Credit Large Pack
Assassin's Creed® Syndicate – Helix Credit Medium Pack
Assassin's Creed® Syndicate – Helix Credit Small Pack
Assassin's Creed® Syndicate – The Dreadful Crimes
Assassin's Creed® Syndicate – The Last Maharaja Missions Pack
Assassin's Creed® Syndicate Gold Edition
Assassin's Creed Triple Pack: Black Flag, Unity, Syndicate
Assassin's Creed® Unity
Awesome Level MAX
BATTLESHIP
Boggle
Bronze Crew Credit Pack
Child of Light
Economy Diamond Bundle
Elite Diamond Bundle
Extreme Car Pack
Far Cry 4
FAR CRY 4 + FAR CRY PRIMAL BUNDLE
Far Cry 4 Gold Edition
Far Cry 4 Season pass
FAR CRY 4 Valley of the Yetis
Far Cry Primal
FAR CRY PRIMAL – APEX EDITION
Far Cry Primal – Wenja Pack
Gold Crew Credit Pack
Gold Pack
Grow Home
GSG9 Racer Pack
HASBRO FAMILY FUN PACK
Hurk Deluxe Pack
Just Dance 2016
Micro Diamond Bundle
Monopoly Deal
Monopoly Family Fun Pack
MONOPOLY PLUS
MY MONOPOLY
Platinum Crew Credit Pack
Platinum Pack
Pro Diamond Diamond Bundle
RABBIDS INVASION
RABBIDS INVASION – GOLD EDITION
RABBIDS INVASION – SEASON PASS
Racer SAS Pack
Raid Car Pack
RAINBOW SIX SIEGE ITEMS PS4 – 16000 CREDITS
RAINBOW SIX SIEGE ITEMS PS4 – 2670 CREDITS
RAINBOW SIX SIEGE ITEMS PS4 – 4920 CREDITS
RAINBOW SIX SIEGE ITEMS PS4 – 7560 CREDITS
RAINBOW SIX SIEGE ITEMS PS4 – AMETHYST SKIN
RAINBOW SIX SIEGE ITEMS PS4 – COBALT SKIN
RAINBOW SIX SIEGE ITEMS PS4 – EMERALD SKIN
RAINBOW SIX SIEGE ITEMS PS4 – PLATINUM SKIN
RAINBOW SIX SIEGE ITEMS PS4 – RUBY SKIN
RAINBOW SIX SIEGE ITEMS PS4 – TOPAZ SKIN
Rare Capsule 2 Pack
Rare Capsule 5 Pack
Rayman Legends
Risk
Risk Urban Assault
Safari Bundle
Secrets of the Revolution
Silver Crew Credit Pack
Silver Pack
Speed Car Pack
Standard Diamond Bundle
Street Edition Pack
Tetris® Ultimate
Tetris® Ultimate Challenge Pack
The Crew
The Crew Season Pass
Tom Clancy's The Division™ – Frontline Outfit Pack
Tom Clancy's The Division™ – Military Specialists Outfits
TOM CLANCY'S RAINBOW SIX SIEGE
Tom Clancy's Rainbow Six Siege Season Pass
Tom Clancy's Rainbow Six Siege: Cyan weapon skin
Tom Clancy's Rainbow Six Siege: GEMSTONES BUNDLE
Tom Clancy's Rainbow Six Siege: Operators Icon Charm Bundle
Tom Clancy's Rainbow Six Siege: Racer FBI SWAT Pack
Tom Clancy's Rainbow Six Siege: Racer GIGN Pack
Tom Clancy's Rainbow Six Siege: Racer JTF2 Pack
Tom Clancy's Rainbow Six Siege: Racer Navy SEAL Pack
Tom Clancy's Rainbow Six Siege: Racer Spetsnaz Pack
TOM CLANCY'S THE DIVISION
Tom Clancy's The Division™ – Marine Forces Outfits Pack
Tom Clancy's The Division™ – Season Pass
Tom Clancy's The Division™ Gold Edition
Tom Clancy's The Division™ – Sports Fan Outfit Pack
Tom Clancy's The Division™ – Upper East Side Outfit Pack
Toy Soldiers: War Chest
Toy Soldiers: War Chest – Legendary Heroes Pack
Toy Soldiers: War Chest Hall of Fame Edition
Trackmania® Turbo
Trials Fusion
Trials Fusion – Season Pass
Trials Fusion The Awesome MAX Edition
Trials of the Blood Dragon
TRIALS OF THE BLOOD DRAGON + OST
TRIVIAL PURSUIT LIVE!
Ultimate Diamond Bundle
Valiant Hearts: The Great War
Vintage Car Pack
VIP Shop Ticket 3 Pack
VIP Shop Ticket 7 Pack
Watch_Dogs™
Watch_Dogs™ Bad Blood
WATCH_DOGS™ COMPLETE EDITION
Watch_Dogs™ Season Pass
ZOMBI
PS3 & PS Vita
ACRO Templar Legacy Edition
Arctic Strike DLC Pack
Assassin's Creed® III The Betrayal
Assassin's Creed ®IV Season Pass
Assassin's Creed Brotherhood – The Da Vinci Disappearance DLC
Assassin's Creed®
Assassin's Creed® Bloodlines™ [VITA]
Assassin's Creed® Brotherhood
Assassin's Creed® Brotherhood Complete Pack
Assassin's Creed® Chronicles – Trilogy [VITA]
Assassin's Creed® Double Edition
Assassin's Creed® Freedom Cry
Assassin's Creed® II
Assassin's Creed® II Complete Pack
Assassin's Creed® II Game of the Year Edition
Assassin's Creed® III – The Hidden Secrets Pack
Assassin's Creed® III Benedict Arnold DLC
Assassin's Creed® III Liberation [VITA]
Assassin's Creed® III Season Pass
Assassin's Creed® III: The Battle Hardened Pack
Assassin's Creed® III: The Infamy
Assassin's Creed® III: The Redemption
Assassin's Creed® IV Black Flag™ – Standard Edition
Assassin's Creed® Liberation HD
Assassin's Creed® Naval Edition
Assassin's Creed® Revelations
Assassin's Creed® Revelations Complete Pack
Assassin's Creed® Rogue
Astonishia Story [VITA]
Beyond Good & Evil™ HD
BIA D-Day + Prince of Persia Rev. [VITA]
BIA Hell's Highway
BROTHERS IN ARMS D-DAY [VITA]
BUNDLE 1 : Prince of Persia Classic + Cell Factor
Bundle CoJ Gunslinger + FC Blood Dragon
Bundle From Dust + I am alive
Bundle: AC2 Sequence 12+13+Secret Locations
Call of Juarez ® Bound in Blood
Call of Juarez® Gunslinger
CellFactor: Psychokinetic Wars
Child of Eden™
Child of Light
Cloudberry Kingdom
Cover Girl [VITA]
DRIVER 76 [VITA]
DRIVER® San Francisco
Dungeon Hunter: Alliance [VITA]
Epilogue
Escalation Expansion Pack
Escape from Durgesh Prison
Faction Elite Pack
FAR CRY 3 + FAR CRY 4
Far Cry 3: Blood Dragon
Far Cry 4
Far Cry 4 Gold Edition
Far Cry 4 Season Pass
FAR CRY 4 Valley of the Yetis
Far Cry Classic
Far Cry® 3
Far Cry® 3 + Far Cry® 3 Blood Dragon
Far Cry® 3: DELUXE BUNDLE DLC
Far Cry®2
Far Cry®2 + Fortunes Pack
Flashback™
Freedom Cry
From Dust
Ghost Recon Advanced Warfighter 2 [VITA]
Hurk Deluxe Pack
I Am Alive
I Am Alive
Illustrious Pirates Pack
Just Dance 2016
Khyber Strike DLC Pack
Mad Riders
Mediterranean Traveler Maps Pack
Might & Magic Clash Of Heroes™ + DLC
Monopoly Deal
MONOPOLY PLUS
MY MONOPOLY
Outland
Prince of Persia
Prince of Persia Classic
Prince of Persia R.Swords + SC Ess. [VITA]
Prince of Persia Revelations+Driver76 [VITA]
Prince of Persia Rival Swords [VITA]
Prince of Persia The Forgotten Sands [VITA]
Prince of Persia Trilogy
Prince of Persia: Revelations [VITA]
Prince of Persia: The Sands of Time
Prince of Persia: The Two Thrones
Prince of Persia: Warrior Within
Racket Sports
Rainbow Six® Complete Pack
Raven Strike DLC Pack
RAYMAN
Rayman 2 The Great Escape®
RAYMAN 3 HD
Rayman Legends
Rayman Legends + Rayman Origins
Rayman® Legends [VITA]
Rayman® Origins
Rayman® Origins [VITA]
RISK
Shoot Many Robots
Splinter Cell Blacklist – PS3 Deluxe edition
Splinter Cell Complete Pack
SPLINTER CELL ESSENTIALS [VITA]
Street Riders [VITA]
TC's Ghost Recon Advanced Warfighter
TC's Ghost Recon Future Soldier™
TC's Splinter Cell Blacklist – Classic Edition
Tetris® Ultimate [VITA]
The Lost Archive
Tom Clancy's Rainbow Six® Vegas 2
Tom Clancy's Rainbow Six® Vegas 2 – Game Of The Year Edition
Tom Clancy's G.R.A.W® 2
Tom Clancy's Ghost Recon
Tom Clancy's GRAW 2 + SC Essentials [VITA]
Tom Clancy's Rainbow Six Vegas
TOM CLANCY'S RAINBOW SIX VEGAS [VITA]
Tom Clancy's RAINBOW SIX®
Tom Clancy's Splinter Cell Chaos Theory® HD
Tom Clancy's Splinter Cell Double Agent
Tom Clancy's Splinter Cell Pandora Tomorrow® HD
Tom Clancy's Splinter Cell® HD
Tom Clancy's Splinter Cell® Trilogy HD
TRIVIAL PURSUIT LIVE!
Valiant Hearts: The Great War
Voodoo Dice [VITA]
Watch_Dogs® Bad Blood
Watch_Dogs™
Watch_Dogs™ Season Pass
Fonti: Store PlayStation, PlayStation Blog Italia
Argomenti correlati a:
Ubisoft per i 30 anni sconti fino al 60% su PS4, PS3 e Vita: FarCry, Assassin's Creed, e tanto altro
---