Annunciato Two Point Hospital insieme con una cura miracolosa per le allucinazioni: SEGA Europe e Two Point Studios accendono il mondo della medicina nel 2018, annuncio accompagnato da un nuovo video trailer.
SEGA Europe Ltd. e Two Point Studios hanno annunciato oggi una terapia rivoluzionaria per le "allucinazioni" che sarà sperimentata nel loro nuovo titolo in sviluppo, Two Point Hospital, in arrivo su Steam nel tardo 2018. In quello che gli "esperti" descrivono come un "illuminante momento per la medicina fittizia", lo studio con sede a Farnham sta raccogliendo plausi sentiti per aver dato vita alla "Clinica De-Lux", che ha aperto i battenti nella contea di Two Point per far fronte alla recente epidemia di questa sconcertante patologia filamentale.
Le allucinazioni sono state contratte per la prima volta dal paziente zero conosciuto come Trevor. Per scoprire l'illuminante storia di Trevor ed essere testimoni della sua battaglia contro questa malattia rarissima, guarda la comunicazione pubblicitaria di servizio di Two Point Hospital, un video che fa luce sulla drammatica situazione:
Two Point Hospital, ispirato da Theme Hospital e realizzato dai suoi stessi creatori, segna il ritorno di uno dei più amati sottogeneri dei videogiochi gestionali. Two Point Hospital nasce dall'esperienza di alcuni dei più famosi sviluppatori specializzati nel genere, che oltre a Theme Hospital hanno lavorato a titoli del calibro di Black and White, Theme Park e Fable, in studi come Bullfrog, Lionhead e Mucky Foot. Two Point Hospital regalerà ai fan del genere un'appassionante esperienza ricca di umorismo, fascino e rigiocabilità.
"Siamo felicissimi di annunciare i frutti della partnership con Two Point Studios e svelare al mondo Two Point Hospital", ha dichiarato John Clark, Executive Vice President of Publishing di SEGA Europe. "La nostra volontà è sempre quella di trovare e lavorare con i migliori studi di sviluppo emergenti del mondo, un intento che si sposa con l'obiettivo di SEGA di pubblicare nuove IP che possono diventare franchise dal potenziale altissimo. La visione di Two Point Studios per Two Point Hospital e le loro ambizioni si sposano perfettamente con la nostra filosofia, e non vediamo l'ora di pubblicare il loro gioco alla fine di quest'anno".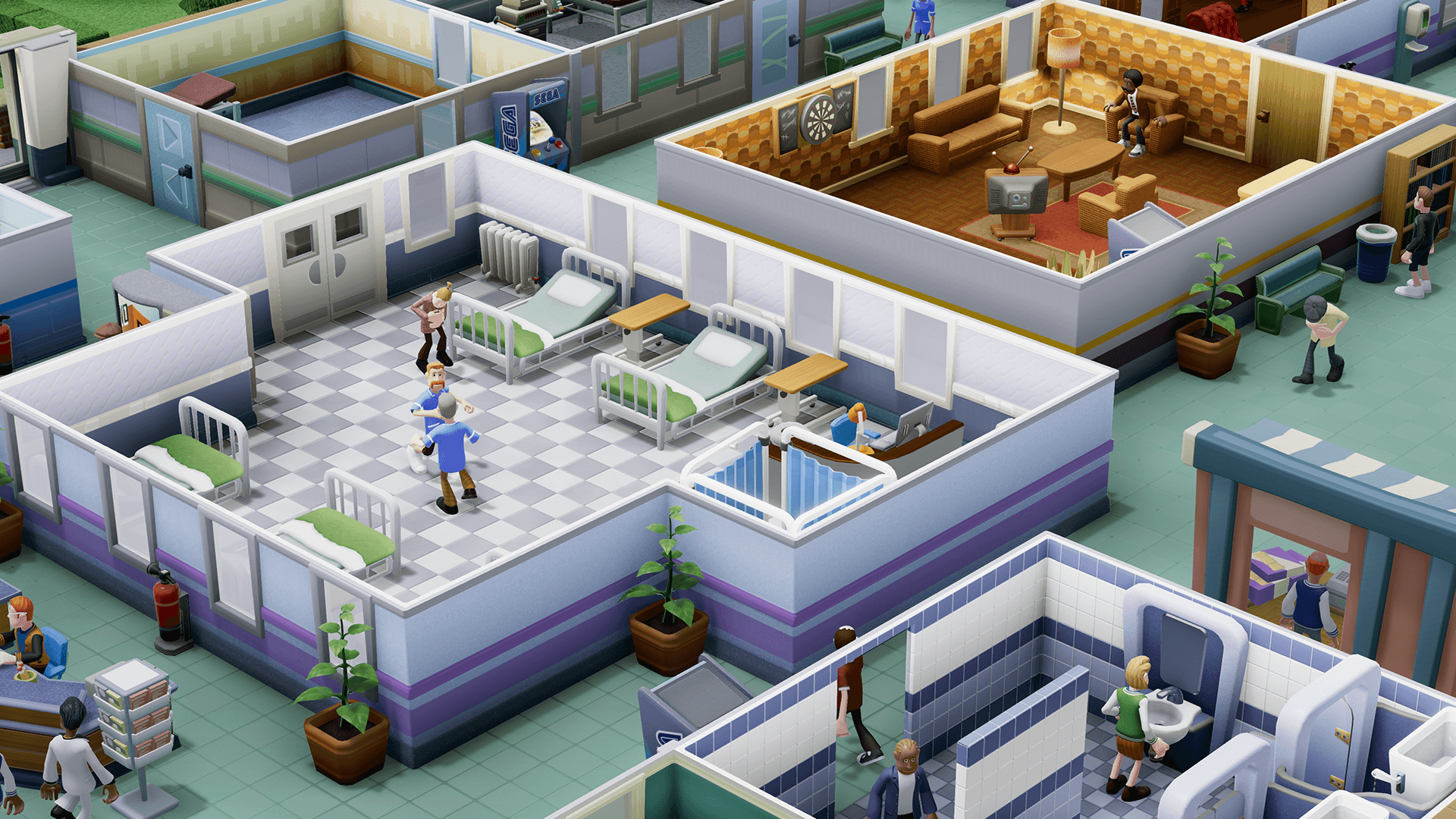 "Io e Gary abbiamo parlato per anni di questo progetto, e siamo davvero entusiasti di annunciare il primo gioco di Two Point Studio", ha rivelato Mark Webley, co-fondatore di Two Point Studios. Il collega Gary Carr ha aggiunto: "Il meraviglioso team che siamo riusciti a mettere insieme, e la partnership con SEGA, hanno davvero svolto un ruolo fondamentale per dare vita alla prima parte della nostra visione".
Two Point Hospital arriverà su PC via Steam e SEGA Store nel tardo 2018.
Fonte: SEGA
Argomenti correlati a:
Two Point Hospital: Annunciato per pc verso la fine di quest'anno – Video
---