Twitter si conferma la piattaforma di riferimento per tutti gli appassionati di gaming. Nei primi sei mesi del 2022, infatti, ci sono stati circa 1,5 miliardi di Tweet, numeri in linea con i record già registrati nel 2021. L'aumento del 36% dei Tweet sul gaming rispetto all'anno scorso* è stato guidato dalle conversazioni di grande impatto riguardanti le uscite di giochi come Elden Ring, leghe di Esports come Call of Duty League, VALORANT Champions Tour e Professional Gamers League Counter-Strike: Global Offensive ed eventi a sfondo gaming globali come Xbox Showcase, Playstation's State of Play e Summer Game Fest.
Gli appassionati di gaming di tutto il mondo si sono ritrovati su Twitter per commentare gli ultimi avvenimenti e tendenze. Dalle nuove uscite dei giochi alle note sulle patch, fino ai momenti salienti dei principali eventi sportivi.
Genshin Impact è rimasto in cima alla classifica dei videogiochi più twittati a livello globale, dopo aver già "conquistato il titolo" nel 2021. Wordle, che è diventato a tutti gli effetti un appuntamento quotidiano per molti appassionati di tutto il mondo, ha conquistato il secondo posto.
Di seguito, gli insight sulle conversazioni a tema gaming su Twitter nella prima metà del 2022: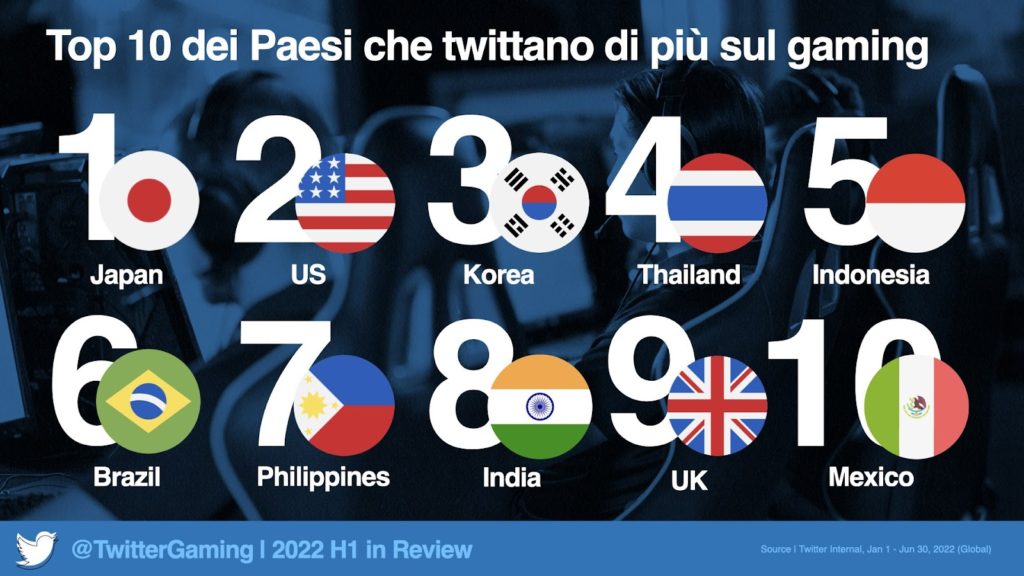 Le 10 nazioni che hanno pubblicato più Tweet sul gaming
Giappone 🇯🇵
Stati Uniti 🇺🇸
Corea del Sud 🇰🇷
Thailandia 🇹🇭
Indonesia 🇮🇩
Brasile 🇧🇷
Filippine 🇵🇭
India 🇮🇳
Regno Unito 🇬🇧
Messico 🇲🇽
I videogame più chiacchierati:
Genshin Impact (@GenshinImpact)WordleEnsemble Stars! (@ensemble_stars)Final Fantasy (@FinalFantasy)Project Sekai (@pj_sekai)Apex Legends (@PlayApex)Elden Ring (@ELDENRING)Fate/Grand Order (fgoproject)Valorant (@PlayVALORANT)The Legend of Zelda (@NintendoAmerica)

I giocatori di Esports più twittati:
FalleN (@FalleNCS)TenZ (@TenZOfficial)Nobru (@nobru)Fnx (@linfnx)Rekkles (@RekklesLoL)Cabochard (@CabochardLoL)S1mple (@s1mpleO)Mixwell (@Mixwell)Scump (@scump)Hungrybox (@LiquidHbox)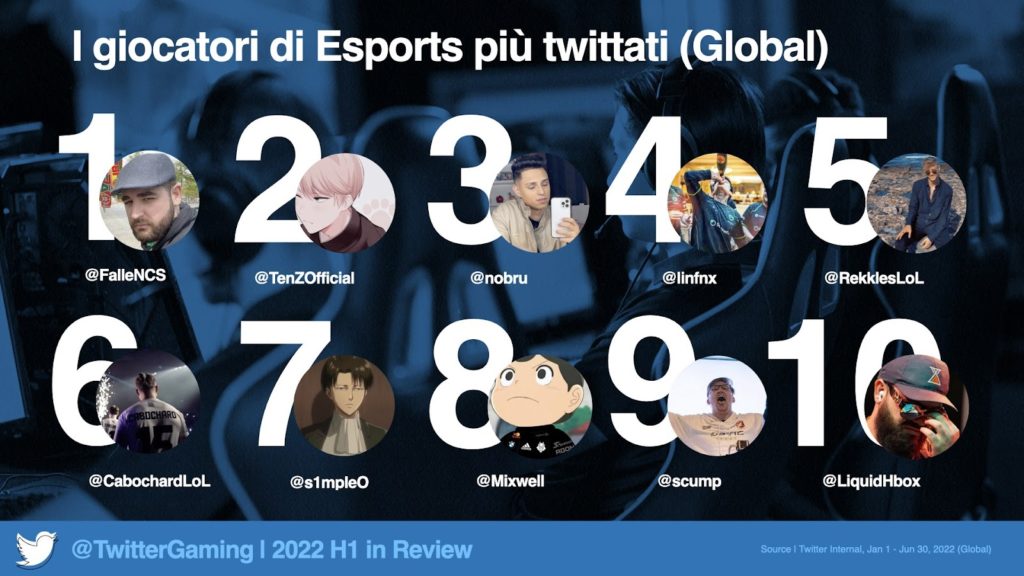 I team di Esports più twittati
Loud Esports (@LOUDgg)Karmine Corp (@KarmineCorp)Crazy Raccoon (@crazyraccoon406)FaZe Clan (@FaZeClan)paiN Gaming (@paiNGamingBR)G2 Esports (@G2esports)T1 (@T1)Los Grandes (@losgrandesgg)Fnatic (@FNATIC)Furia Esports (@FURIA)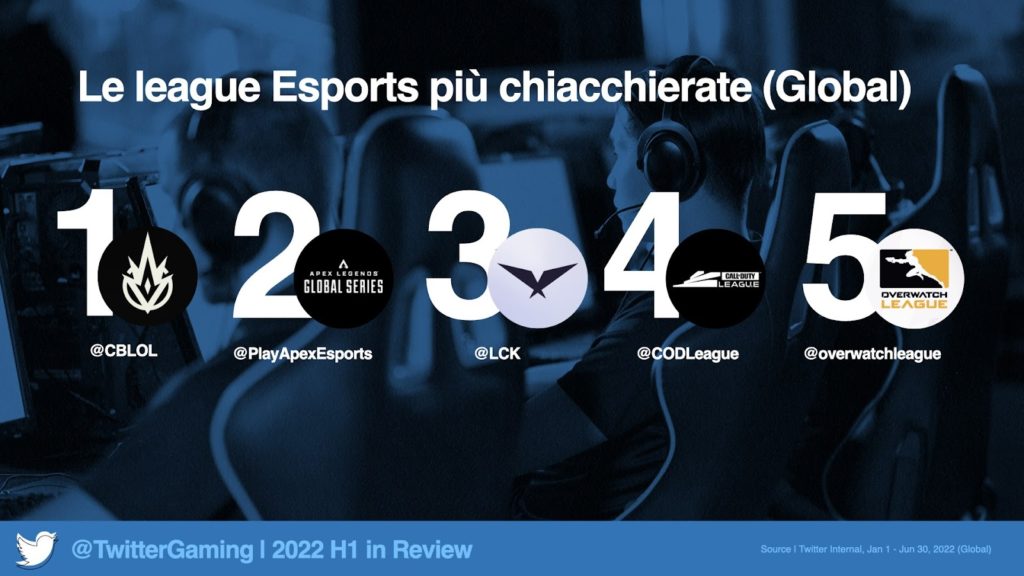 Le leghe Esports più chiacchierate
Campeonato Brasileiro de League of Legends (@CBLOL)Apex Esports (@PlayApexEsports)League of Legends Champions Korea (@LCK)Call of Duty League (@CODLeague)Overwatch League (@overwatchleague)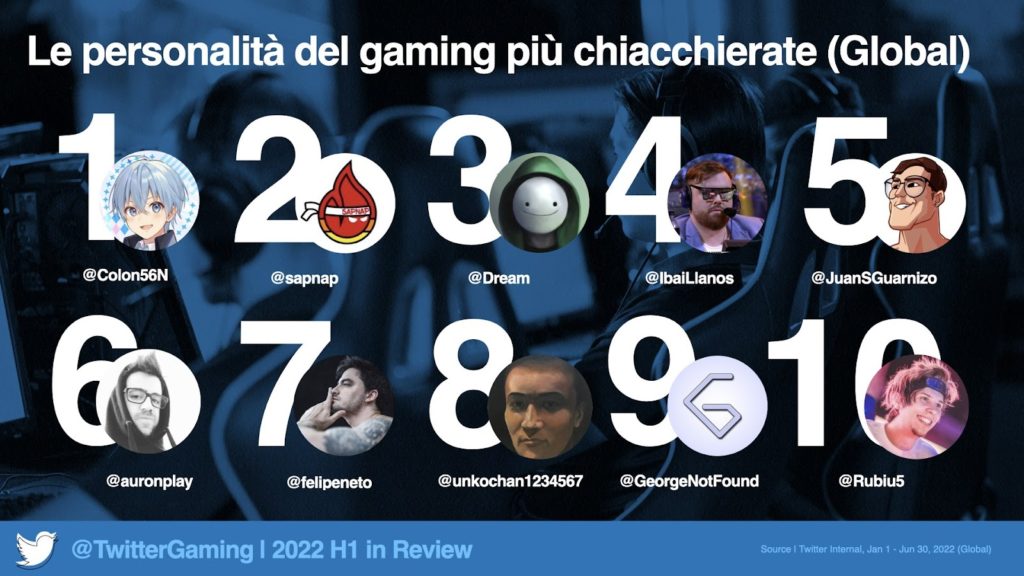 Le personalità del gaming più chiacchierate:
Colon (@Colon56N)Sapnap (@sapnap)Dream (@Dream)Ibai Llanos (@IbaiLlanos)Juan S Guarnizo (@JuanSGuarnizo)AuronPlay (@auronplay)Felipe Neto (@felipeneto)Junichi Kato (@unkochan1234567)GeorgeNotFound (@GeorgeNotFound)Rubén Gundersen (@Rubiu5)
Twitter Spaces: i 3 Spaces più ascoltati nel mondo del gaming
"Microsoft buys Activision Blizzard, let's talk" "Talking about Summer Game Fest plans and ideas from fans""100Thieves post LCS talk"
Twitter Communities: Le 5 Communities sul gaming di maggior successo 
Retro GamingSplatoon!Xbox CommunityValorantCounter-Strike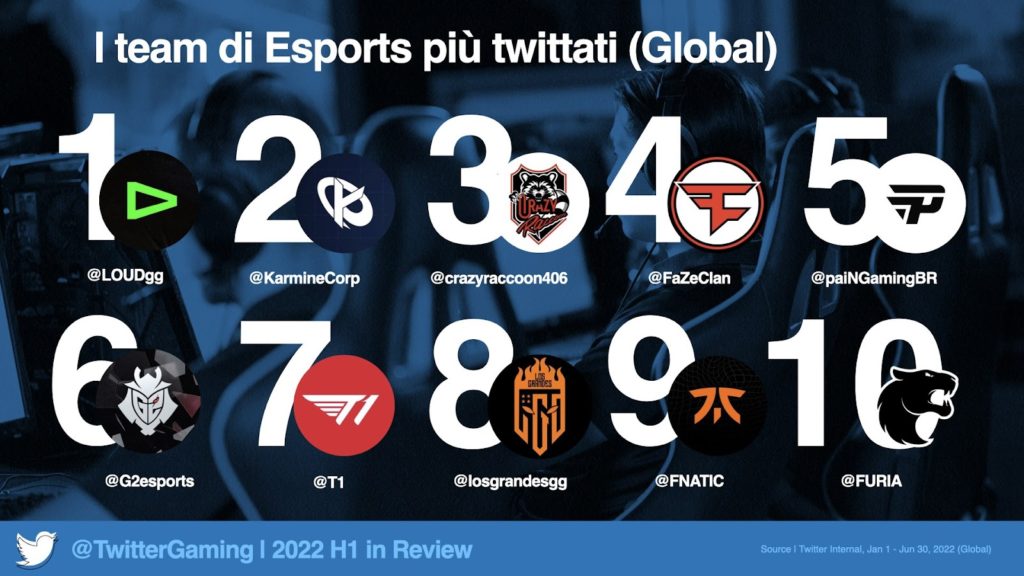 Uno sguardo al futuro 
Twitter sarà presente anche nella seconda metà dell'anno per aiutare gli utenti a rimanere aggiornati su tutti i contenuti e le discussioni di eventi legati agli Esports come Rocket League Championship Series, Intel Extreme Masters Rio Major 2022, Call of Duty League e Overwatch League Champs. I campionati di Riot Games come League of Legends Championship Series, League of Legends European Championship, League of Legends Champions Korea, League of Legends Pro League e VALORANT Champions Tour. Ma anche per seguire importanti uscite di giochi come Xenoblade 3, God of War: Ragnarok, Gotham Knights, Hogwarts Legacy e Modern Warfare 2 e molto altro ancora.
Argomenti correlati a:
Twitter: circa 1,5 miliardi di conversazioni sul gaming nella prima metà del 2022
---