The Witch and the Hundred Knight 2, l'atteso sequel del titolo action RPG invaso dalle streghe arriverà a marzo su console PlayStation 4 anche in Europa. In basso i dettagli e il nuovo video rilasciato da NIS America.
NIS America è molto felice di annunciare che The Witch and the Hundred Knight 2 arriverà in Europa il 30 marzo 2018 e in Nord America il 27 marzo 2018; esclusivamente per la PlayStation®4!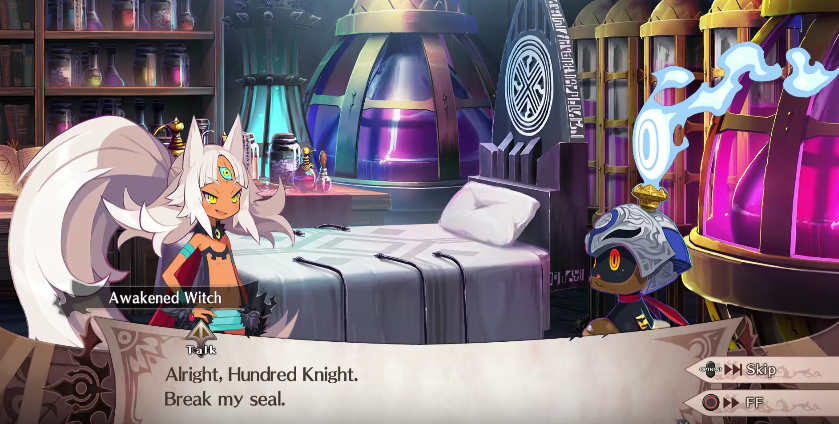 Riguardo al gioco:
Segui Hundred Knight nel suo viaggio attraverso un mondo devastato da streghe. Le giovani ragazze stanno contraendo una strana malattia e si stanno risvegliando come streghe, causando caos in tutta la regione di Kevala. Dalla parte di Hundred Knight ci sono due sorelle: Amalie, agente di un'organizzazione che si oppone alle streghe; e Chelka, la strega che si è svegliata nella sorella minore di Amalie, Milm. Scopri i misteri di Kevala mentre li proteggi entrambi dal male.
VIDEO TRAILER:

Scava tra dungeon e paesaggi brulicanti di demoni e mostri, alla ricerca di attrezzature di potere leggendario. Cresci più forte con l'aiuto di Tochka e Sfaccettature che daranno un vantaggio in combattimento. Attacchi a catena insieme al sistema di armi unico che accoglie il cambio di arma a metà combattimento. Il destino di Kevala è nelle tue mani, coraggioso cavaliere.
Caratteristiche principali:
• Adattati alle situazioni – Passa tra le sei Facet di Hundred Knight per invertire la marea in battaglia! Raccogli Tochka, i servitori indispensabili, per aiutarti nella tua esplorazione.
• Pint-Sized Powerhouse – Esegui Depletura per finire i nemici e reintegrare le tue GigaCalories! Attiva il tuo Terzo Occhio e libera per un breve periodo tutta la potenza. Lascia i nemici a tremare prima di aumentare velocità, potenza e abilità!
• Tempra la tua forza – Forgia nuove armi con oggetti dal campo alla tua base. Passa le petizioni da strega; garantendoti l'accesso a nuovi Tochka e altri benefici!
---
SCHEDA The Witch and the Hundred Knight 2
Release Date (EU) : 30 March, 2018
Release Date (NA) : 27 March, 2018
Platform : PlayStation®4
Genere : Action RPG
Player(s) : 1
Ratings : TBD
Publisher : NIS America, Inc.
Developer : Nippon Ichi Software
---
Fonte: NIS America
Argomenti correlati a:
The Witch and the Hundred Knight 2 arriva su PS4 il prossimo Marzo in Europa – Video
---