Inquietante e presuntuosa, la città di Innsmouth è nota da tempo per le sue sinistre disgrazie. Per molti, è la proverbiale fine della strada; per il giocatore, è solo l'inizio di un viaggio scoraggiante. 
Indossa il cappello da detective e preparati per una pericolosa avventura investigativa, l'editore Assemble Entertainment ha annunciato oggi una data di uscita prevista al 23 giugno 2020 per il loro romanzo visivo The Innsmouth Case. Il gioco, che ti porta in viaggio verso la sinistra città di mare per risolvere un caso di persone scomparse, sarà disponibile su Steam (PC), sull'App Store di iOS e su Google Play Store per Android. Il romanzo visivo mistificante e umoristico ambientato nella città (letteralmente) ossessiva di Lovecraft, Innsmouth è quasi alle porte.
Inoltre, Assemble ha rilasciato oggi un nuovo trailer teaser, insieme a una serie di nuovi screenshot di gioco sia per PC che per piattaforme mobili. Nel nuovo video, gli spettatori hanno un assaggio di tutto ciò che la città ha da offrire in uno spiritoso spot pubblicitario in promozione turistica "Visit Innsmouth".
Per risolvere l'enigmatica scomparsa della piccola Tabitha Marsh, il detective più intelligente è disperatamente necessario. Sfortunatamente, quel particolare detective è occupato, quindi il caso spetta a te! Prepara le tue cose e preparati ad andare presso il remoto villaggio di pescatori di Innsmouth, mentre ti aspetta The Innsmouth Case !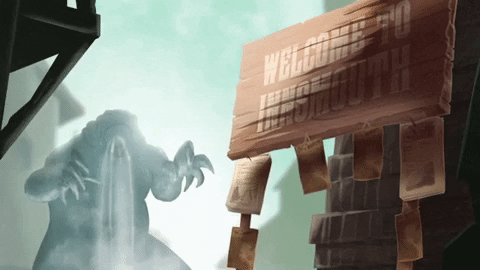 Ispirato alle fantastiche opere di HP Lovecraft, The Innsmouth Case presenta un mix di orrore e umorismo straziante, un gioco in cui ogni decisione conta, e c'è molto più di un modo per risolvere con successo il caso … o fallire miseramente.
Sviluppato da Robot Pumpkin Games e pubblicato da Assemble Entertainment, The Innsmouth Case arriverà su PC Windows tramite Steam il 23 giugno per $ 12,49 USD. Le versioni mobili su iOS e Android saranno disponibili per $ 5,49 USD.
Argomenti correlati a:
The Innsmouth Case presto in arrivo per PC, iOS e Android, investigazioni nell'universo di Lovecraft
---