Nato alla fine degli anni Novanta, e noto soprattutto nella versione per Amiga, The Bluecoats: North & South torna oggi per Nintendo Switch, PlayStation 4, Xbox One e PC/Mac! Scopri o rivivi un vero e proprio classico di culto, ispirato al fumetto "The Bluecoats", in versione remastered con rinnovati visual in 3D e contenuti appositamente ricreati.
Sono disponibili 3 differenti modalità di gioco:
Strategico a turni – Prendi il commando delle operazioni e muovi I battaglioni per conquistare nuovi Stati, ingaggiare battaglia col nemico e rafforzare3 le posizioni raggiunte. Ogni decisione è letteralmente cruciale: cerca di anticipare le mosse dell'avversario meglio che puoi.
Battaglia in tempo reale – Buttati nel cuore dell'azione e confrontati faccia a faccia col nemico. Usa al meglio la fanteria, la cavalleria e l'artiglieria per ottenere la vittoria. Come? Muovendo abilmente le truppe usando le loro capacità per annientare il nemico.
Attacco e difesa in modalità FPS – Che si tratti di forti o ferrovie, dovrai decidere se difenderli o conquistarli per vincere. Un gameplay completamente ridisegnato ti consentirà di calarti nei panni di un soldato, con la visuale in prima persona difendi la tua posizione dagli assalti nemici, oppure prendi l'iniziativa dando l'assalto alle loro postazioni!
Questa edizione rimasterizzata offre inoltre una nuova modalità di gioco in local multiplayer, che consente a due giocatori di scontrarsi sul campo di battaglia. Allo stesso modo, anche la classica modalità campagna può essere giocata da due giocatori in local multiplayer, per ricreare le più epiche battaglie della Guerra Civile Americana!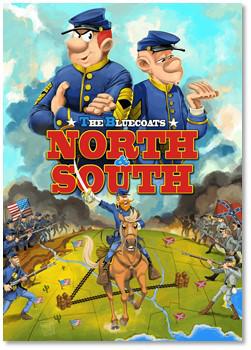 Su The Bluecoats: North & South
Unitevi al Sergente Cornelius M. Chesterfield e al Corporale Blutch in questa versione rimasterizzata del cult game che combina strategico a turni, battaglie in tempo reale e sequenze in modalità FPS. Vinci i turni da vero maestro di strategia. Conquista nuovi Stati, metti al sicuro I forti e le ferrovie per aumentare le risorse da cui attingere, e comanda i rinforzi in arrivo dall'Europa. Rivivi il fascino dell'originale "The Bluecoats – North & South" in modalità singola o a due giocatori, grazie al gameplay completamente rivisto di questa versione.
Argomenti correlati a:
The Bluecoats: North & South, ritorna su console e PC
---