Il titolo firmato Microids Syberia: The World Before arriva su PlayStation 5 e Xbox Series X|S.
Ecco il nuovo trailer:
Accolta con entusiasmo dai media (81% Metascore) e dai giocatori di tutto il mondo (92% di recensioni positive su Steam), sarà disponibile in edizione limitata su PlayStation 5 e Xbox Series X|S alla fine del 2022. Inoltre, per i fan della serie c'è anche un'edizione da collezione creata per l'occasione su PlayStation 5, Xbox Series X|S e PC.
Syberia: The World Before Collector's Edition include:
Il gioco completo.
La custodia in metallo.
Una esclusiva statuetta di Kate & Dana (configurabile in tre modi diversi).
Un artbook.
Un carillon.
La mappa di Vaghen.
Un'esclusiva litografia.
Un portachiavi.
Un set di cartoline.
Lo scrip digitale del prologo.
La colonna sonora in digitale.
Una box da collezione.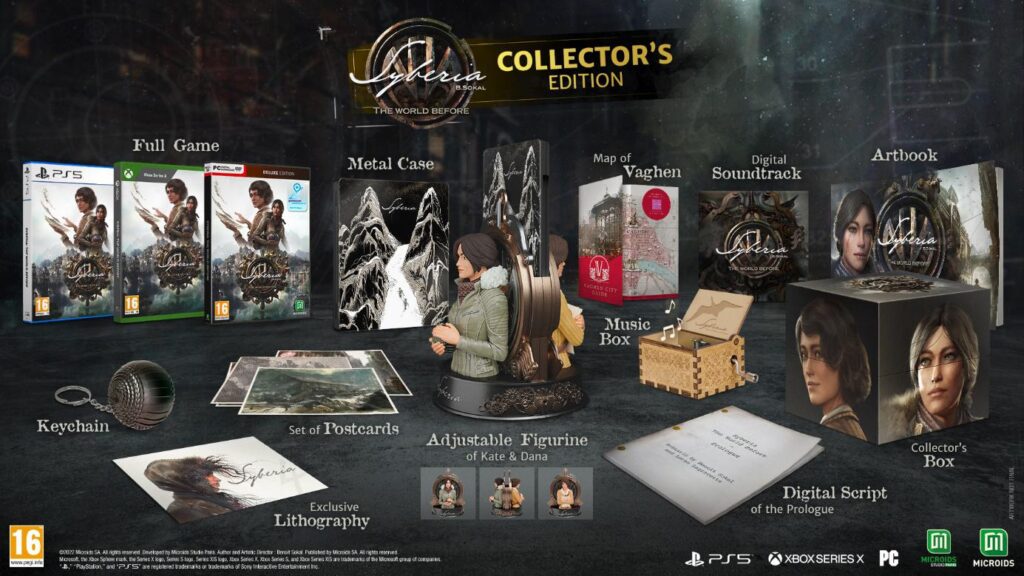 Syberia: The World Before 20 Year Limited Edition comprende:
Il gioco completo.
Un libro che celebra i 20 anni di Syberia.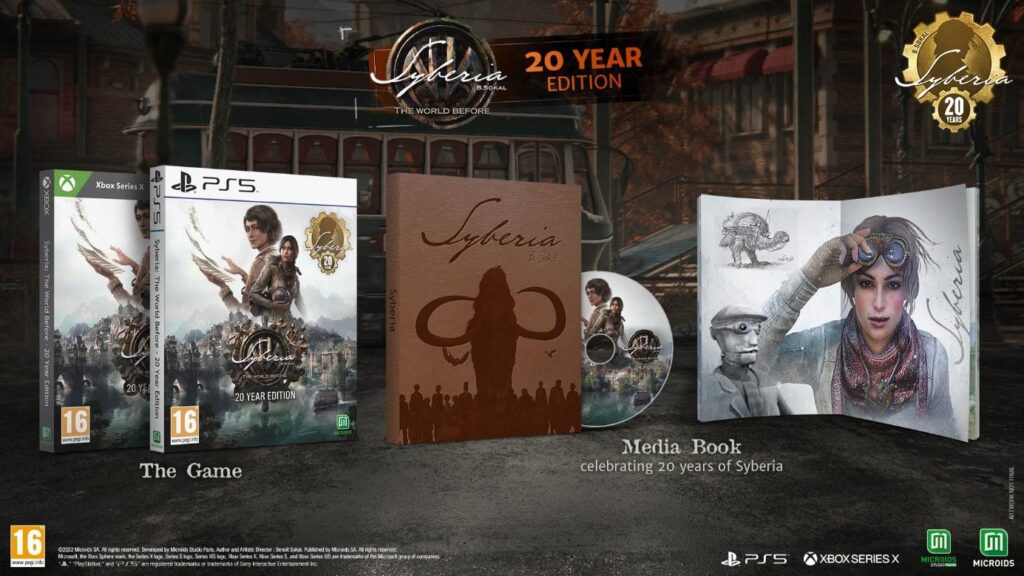 Tuffatevi nell'universo creato da Benoît Sokal con l'ultimo capitolo della famosa serie Syberia. In questa nuova avventura, vestite i panni di Kate Walker e Dana Roze, due donne capaci di smuovere le montagne per scoprire i più profondi misteri sepolti.
Syberia: The World Before è disponibile per PlayStation 5, Xbox Series X|S e PC.
VOLETE LEGGERE LA NOSTRA RECENSIONE ENTUSIASTICA PER PC? LA TROVATE IN BASSO:
Syberia: The World Before:
Vaghen, 1937: Dana Roze è una ragazza di 17 anni, che sta iniziando una brillante carriera come pianista. Tuttavia, il suo futuro comincia a farsi sempre più incerto e oscuro, mentre la minaccia fascista dell'Ombra Marrone incombe sull'Europa, alla vigilia della Seconda Guerra Mondiale 
 
Taiga, 2004: Kate Walker cerca di sopravvivere meglio che può nella miniera di sale dove è stata imprigionata, quando un tragico evento la spinge in una nuova avventura alla ricerca della sua identità. 
Syberia: The World Before è un'avventura che attraversa i continenti e il tempo. I giocatori dovranno calarsi nei panni sia di Kate Walker che di Dana Roze, per venire a capo di misteri rimasti sepolti per troppo tempo. 
Tutto il mondo fantastico e poetico di Benoît Sokal, con i suoi scenari mozzafiato e personaggi iconici. 
Una storia misteriosa e piena di enigma tutta da scoprire, come nella tradizione di Syberia.  
Una doppia storia, due vite che si intrecciano nella storia scritta da Benoît Sokal e Lucas Lagravette.
Una colonna sonora evocativa, orchestrata da Inon Zur (Syberia 3, Fallout, Dragon Age, Prince of Persia).
Argomenti correlati a:
Syberia: The World Before arriva su console
---