Grimorio of Games e JanduSoft SL lanciano il loro action di evocazione di mostri roguelike Sword of the Necromancer , disponibile oggi su PlayStation 4, Xbox One, Switch e PC.
Sword of the Necromancer è un dungeon crawler action-RPG con elementi roguelike in cui puoi far rivivere i tuoi nemici sconfitti per farli combattere al tuo fianco. Trasforma i tuoi nemici in alleati usando i poteri proibiti della Spada del Negromante e aiuta la canaglia Tama a raggiungere le profondità del dungeon per raccogliere abbastanza potere da riportare la sua amata sacerdotessa Koko dalla morte. Assembla un piccolo esercito di mostri, equipaggiati con armi e reliquie e sali di livello per affrontare i guardiani che si frappongono tra te e il tuo obiettivo.
Ogni tentativo ti avvicina al Negromante. Alla morte perderai tutte le armi e i mostri equipaggiati, ma manterrai parte del livello raggiunto durante la corsa. Mentre esplori più a fondo nel dungeon scoprirai di più sul passato di Tama e Koko. Pensi che sia pericoloso andare da solo? Quindi usa il Flask of Homunculus per creare una copia di te stesso e gioca con un amico in co-op locale! Inoltre, ci sono codici IR che possono essere scansionati per rendere il gioco più facile. O più difficile. La scelta è tua!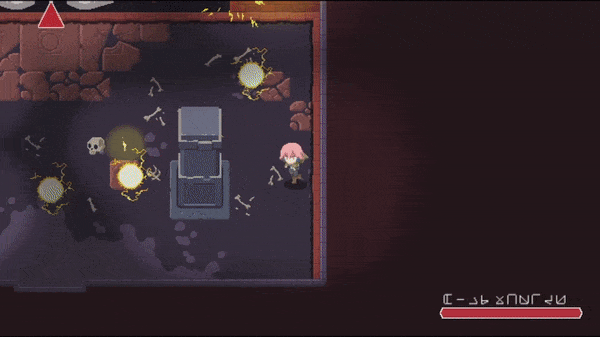 "Siamo molto entusiasti che i giocatori possano finalmente mettere le mani sulla nostra creazione!" dicono gli sviluppatori. "Racchiude la nostra opinione sui dungeon crawler moderni. Ispirati dai classici, miriamo a creare una nuova ed emozionante avventura pur sentendoci familiari. Il gioco combina l'azione di evocazione dei mostri con un sistema di combattimento fluido che lavora insieme mentre ti sforzi di far rivivere Koko in un'esperienza avvincente ma stimolante. " 
Per celebrare il lancio Grimorio of Games ha pubblicato una delle canzoni della colonna sonora del gioco, composta da Dale North ( Wizard of Legend, Sparklite, Nintendo Minute ) e cantata da Emi Evans ( Nier & Nier Automata, Drakengard, Dark Souls ).
Argomenti correlati a:
Sword of the Necromancer è ora disponibile
---