Meridiem Games è entusiasta di annunciare che l'edizione deluxe in scatola dell'acclamato gioco horror Song of Horror è ora disponibile nei negozi specializzati europei e australiani. La Deluxe Edition in scatola è prodotta e distribuita da Meridiem Games.
Sviluppato da Protocol Games e pubblicato da Raiser Games, Song of Horror rende omaggio ai classici del genere survival horror, offrendo un'avventura horror in terza persona con telecamere fisse. Aiuta il suo protagonista, Daniel Noyer , a risolvere la misteriosa scomparsa del famoso scrittore Sebastian P. Husher .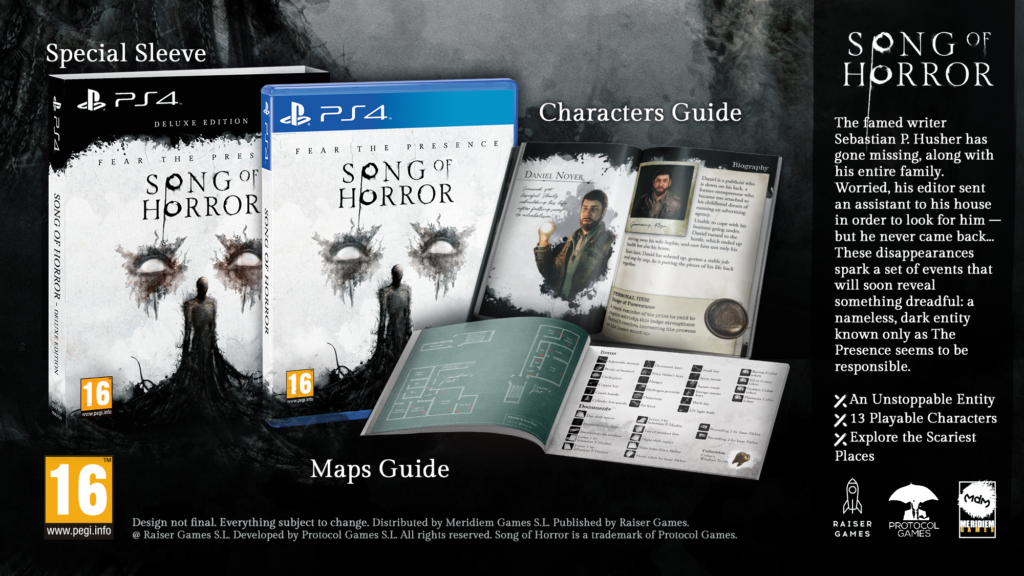 Un must per tutti i fan dell'horror e i collezionisti di edizioni speciali, la Deluxe Edition in scatola di Song of Horror includerà una copertina speciale con l'iconica illustrazione di The Presence, una mappa in cui i giocatori possono annotare gli indizi che trovano durante il gioco e una guida ai personaggi , spiegando le loro abilità e il rapporto con la storia per tutti e 13 i personaggi giocabili. 
Song of Horror è un'avventura cinematografica horror in terza persona incentrata su una narrativa terrificante ispirata alle opere letterarie di Poe, Lovecraft e MR James.
Il famoso scrittore Sebastian P. Husher è scomparso, insieme a tutta la sua famiglia. Il suo editore, preoccupato per la perdita dei contatti, manda un assistente a casa di Husher per controllare il suo benessere. Non torna mai. Queste sparizioni innescano una serie di eventi terrificanti, rivelando un'entità oscura conosciuta solo come La Presenza che sembra essere al centro dell'orrore che si svolge.
Argomenti correlati a:
Song of Horror Deluxe Boxed Edition disponibile ora per PlayStation 4
---