Sniper Ghost Warrior 3: l'attesissimo gioco di azione e guerra di CI Games apre alla promozione pre-order con season pass gratuito. Tantissimi contenuti aggiuntivi se si effettua il pre-order del nuovo titolo su PlayStation 4 e su PC.
CI Games ha annunciato un super incentivo per tutti coloro i quali prenoteranno Sniper Ghost Warrior 3, che comprende moltissimi extra e senza costi aggiuntivi. I giocatori possono approfittare del Season Pass effettuando il pre-order a partire da oggi per PlayStation®4 e per PC.
---
"Investiamo a lungo termine sulla nostra community e crediamo che questo season pass possa offrirgli un grande valore," ha dichiarato Marek Tymiñski, CEO di CI Games. "I contenuti all'interno del season pass sono molto vari, e noi ci impegneremo a rilasciarne ulteriori nel corso del 2017. Uno dei maggiori contenuti di questa offerta sarà la campagna single player 'The Sabotage', della quale siamo molto orgogliosi in quanto permette ai giocatori di seguire la storia dal punto di vista dei separatisti rendendo l'esperienza ancora più profonda, mostrando l'altro lato del conflitto."
In aggiunta agli extra elencati qui di seguito, CI Games sta pianificando di rilasciare altri contenuti ed eventi speciali nel corso del 2017.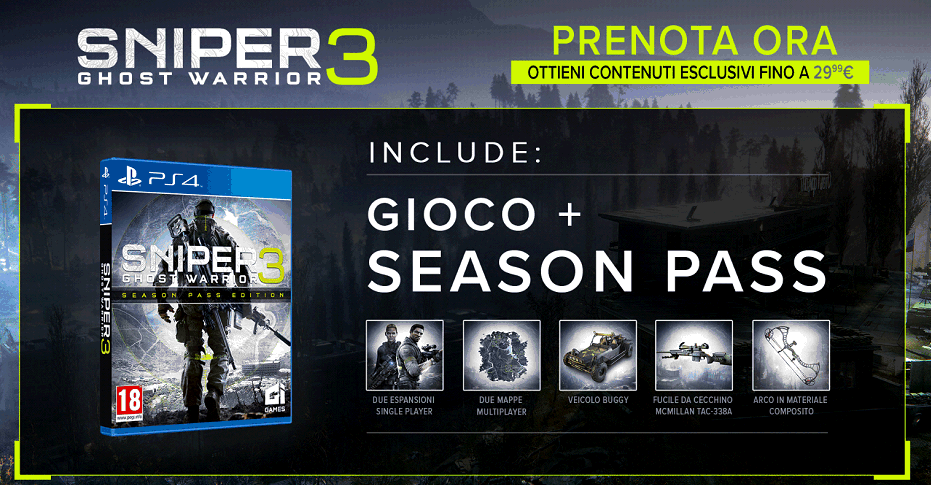 Il season pass per PS4™ e PC include:
○        Due grandi espansioni single-player
○        The Escape of Lydia
○        The Sabotage
○        Due mappe multiplayer
○        Veicolo Buggy
○       Due armi esclusive:
○        Fucile da cecchino McMillan TAC-338A
○        Arco in materiale composito
Il season pass del valore di 29.99€ sarà disponibile gratuitamente per tutti coloro che effettueranno il pre-order del gioco. I giochi possono essere prenotati presso i retailer della tua zona o su http://sniperghostwarrior3.com/pre-order/.
Sniper: Ghost Warrior 3 sarà disponibile su PC, PlayStation®4 e Xbox One il 4 Aprile 2017
Argomenti correlati a:
Sniper Ghost Warrior 3: con il pre-order la season pass è gratuita su PC e PS4
---