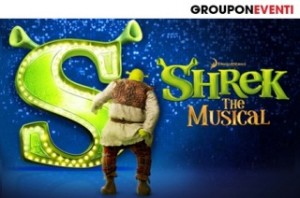 Arriva  lo spettacolo Shrek il Musical Spettacolo in scena al Teatro Alfieri di Torino che porta anche in questa città lo spettacolo dopo il successo di New York, Londra e Parigi  arriva a Torino con la magnifica e la divertente storia d'amore tra l'orco Shrek e la principessa Fiona Libretto. La commedia musicale riprende i personaggi del primo cartone animato della Dreamworks, vincitore nel 2002 dell'Oscar per il miglior film d'animazione. La vita di Shrek, l'orco  verrà per ritrovare la serenità  partirà alla volta del castello del drago per liberare la principessa Fiona, destinata a diventare la moglie di Farquaad ma a questo punto Shrek ripenserà il suo modo di vivere e mediterà su se stesso. La saga ha avuto un successo enorme in tutto il mondo realizzando oltre 1 miliardo di incassi.A Parigi tra il febbraio e il marzo del 2012 ha fatto 40 repliche, per un totale di 50.000 spettatori. Ora tocca Torino e si spera che anche qui il successo sarà garantito.
♪ ♫ Thought love was 
Only true in fairy tales 
Meant for someone else 
But not for me 
Love was out to get to me 
That's the way it seems 
Disappointment haunted 
All my dreams ♪ ♫
Tutto è pronto anche la musica che richiama una delle storie più belle.Dopo che ha già spopolato a Broadway, prima di ammaliare, con coinvolgenti musiche e coreografie, grandi e piccini da Londra a Parigi. Ora, il burbero orco dal cuore tenero, il suo asino chiacchierone e la, non sempre, bella principessa da salvare arrivano anche nel cuore di Torino.
Offerta Shrek il Musical al Teatro Alfieri di Torino 
Argomenti correlati a:
Shrek il Musical al Teatro Alfieri di Torino
---