Eastasiasoft Limited ha annunciato oggi che lo shooter satirico in prima persona Shadow of Loot Box sarà disponibile digitalmente in Asia e Giappone il 27 giugno (Nintendo Switch) e il 28 giugno (PS4 ). Shadow of Loot Box arriverà in Europa e USA mediante la partnership con Ratalaika Games. Il titolo sarà disponibile anche come Limited Edition fisica presso il rivenditore online Playasia il 27 giugno.
Shadow of Loot Box è uno sparatutto in prima persona su micropagamenti, loot box, contenuti tagliati e tutto ciò che "amiamo" nei videogiochi moderni. Se hai sempre pensato che ci fossero troppo pochi bottini in altri giochi, questo gioco fa per te!
GUARDA IL TRAILER:
Shadow of Loot Box è un tentativo di presentare ciò che i videogiochi possono diventare nel prossimo futuro. Ogni livello di questo sparatutto è un riferimento a una tendenza popolare nel settore dello sviluppo moderno del gioco. Sarai in grado di superare il percorso spinoso pieno di microtransazioni, bottino scatole e insetti, resistendo alla tentazione di utilizzare il negozio nel gioco?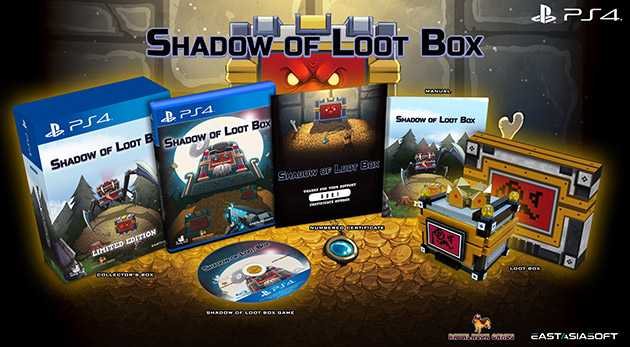 Argomenti correlati a:
Shadow of Loot Box, l'FPS satirico in arrivo su Switch e PS4
---