Spike Chunsoft ha rilasciato oggi un trailer dei personaggi di Re: ZERO -Starting Life in Another World- The Prophecy of the Throne . Il trailer dei personaggi rivela le informazioni sul pre-ordine digitale e il cast vocale inglese per i nuovi personaggi . 
Guarda il trailer qui:
Info sui pre-ordini di Spike Chunsoft:
Versione PlayStation®4 per l'Europa: Prenota tra il 4/12/2020 e il 5/2//2021 per ricevere uno sconto del 10% e avatar esclusivi per PS4! Gli sconti si applicano solo agli utenti PS Plus. Gli avatar sono disponibili per tutti gli utenti PS che prenotano.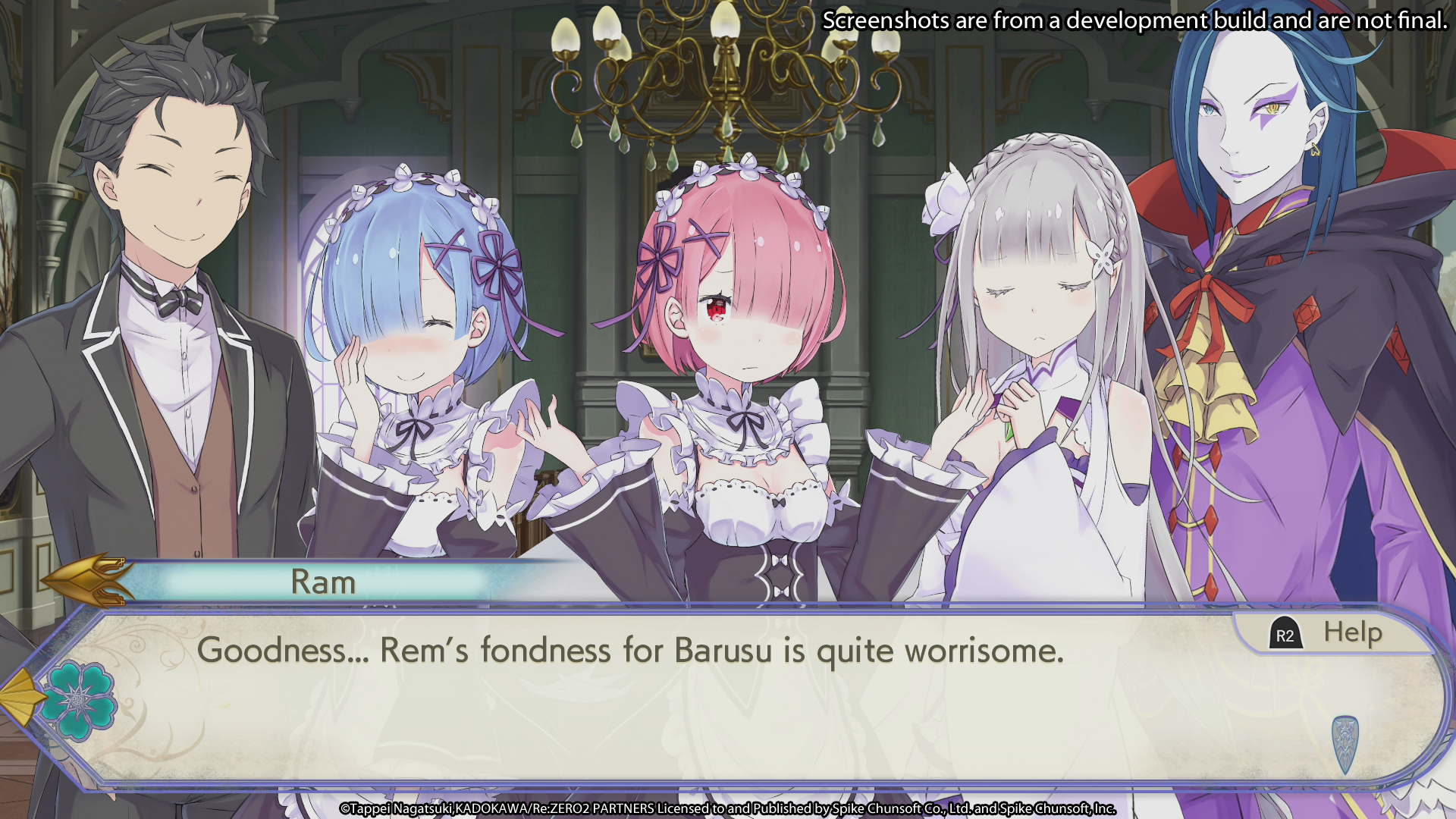 Per effettuare un ordine Versione per Nintendo Switch per il Nord America e l'Europa: Le pagine del Nintendo eShop sono attualmente attive per questo titolo in alcune regioni. Tuttavia, è attualmente in corso di preparazione di uno sconto del 10% sul pre-acquisto che verrà annunciato ai fan tramite i canali social ufficiali di Spike Chunsoft. 
Attendi il preacquisto fino all'applicazione dello sconto se desideri il 10% di sconto.
Voce fuori campo in inglese 
Il cast inglese dell'anime Re: ZERO -Starting Life in Another World- tornerà per riprendereil proprio posto! Le voci in inglese saranno disponibili come patch del primo giorno per le versioni nordamericana ed europea.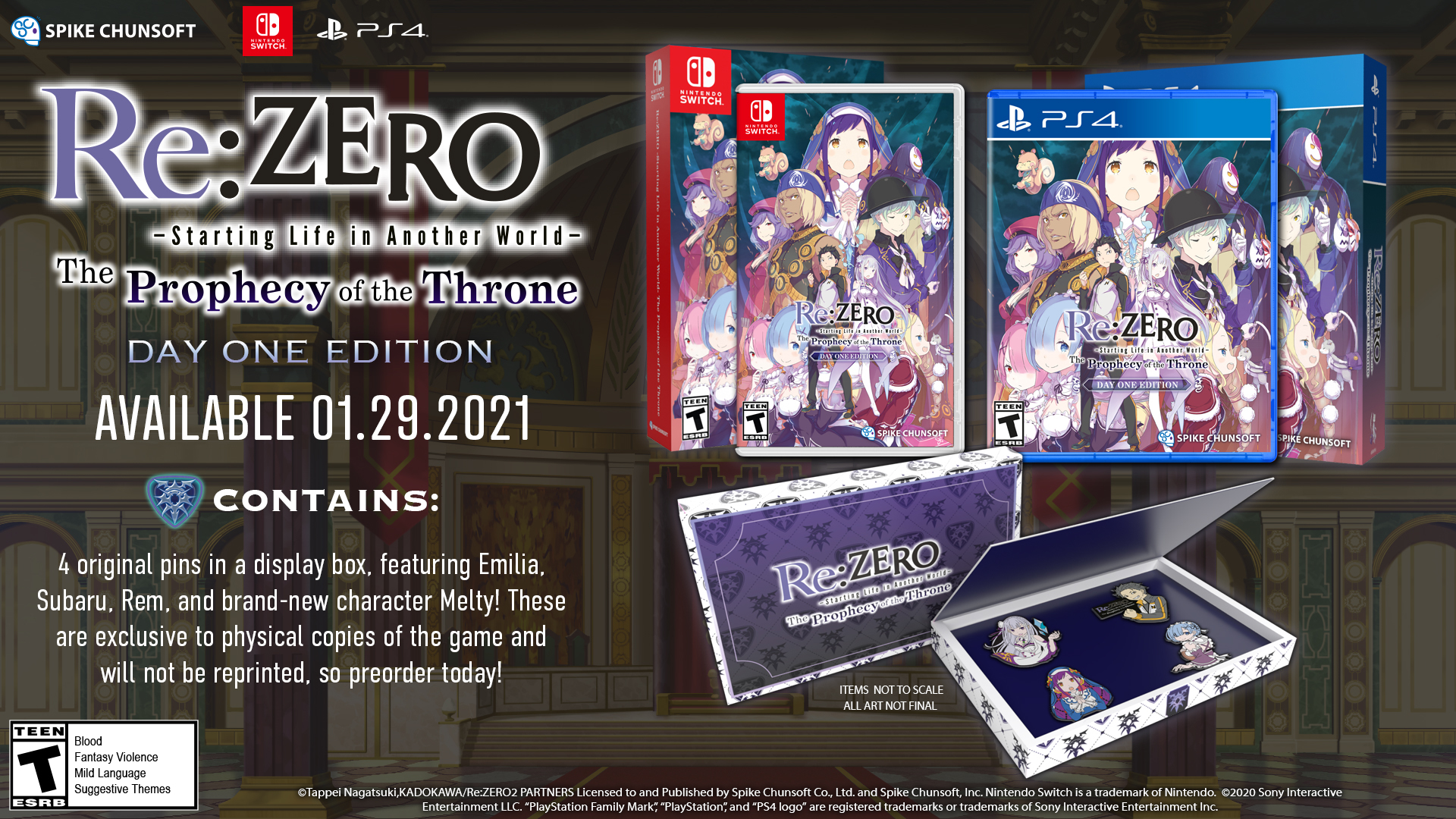 Day One Edition
La Day One Edition include 4 spille originali esclusive, a tiratura limitata, in una scatola da esposizione, con Emilia, Subaru, Rem e il nuovissimo personaggio Melty! Questi sono esclusivi delle copie fisiche del gioco e non verranno ristampati.
Collector's Edition: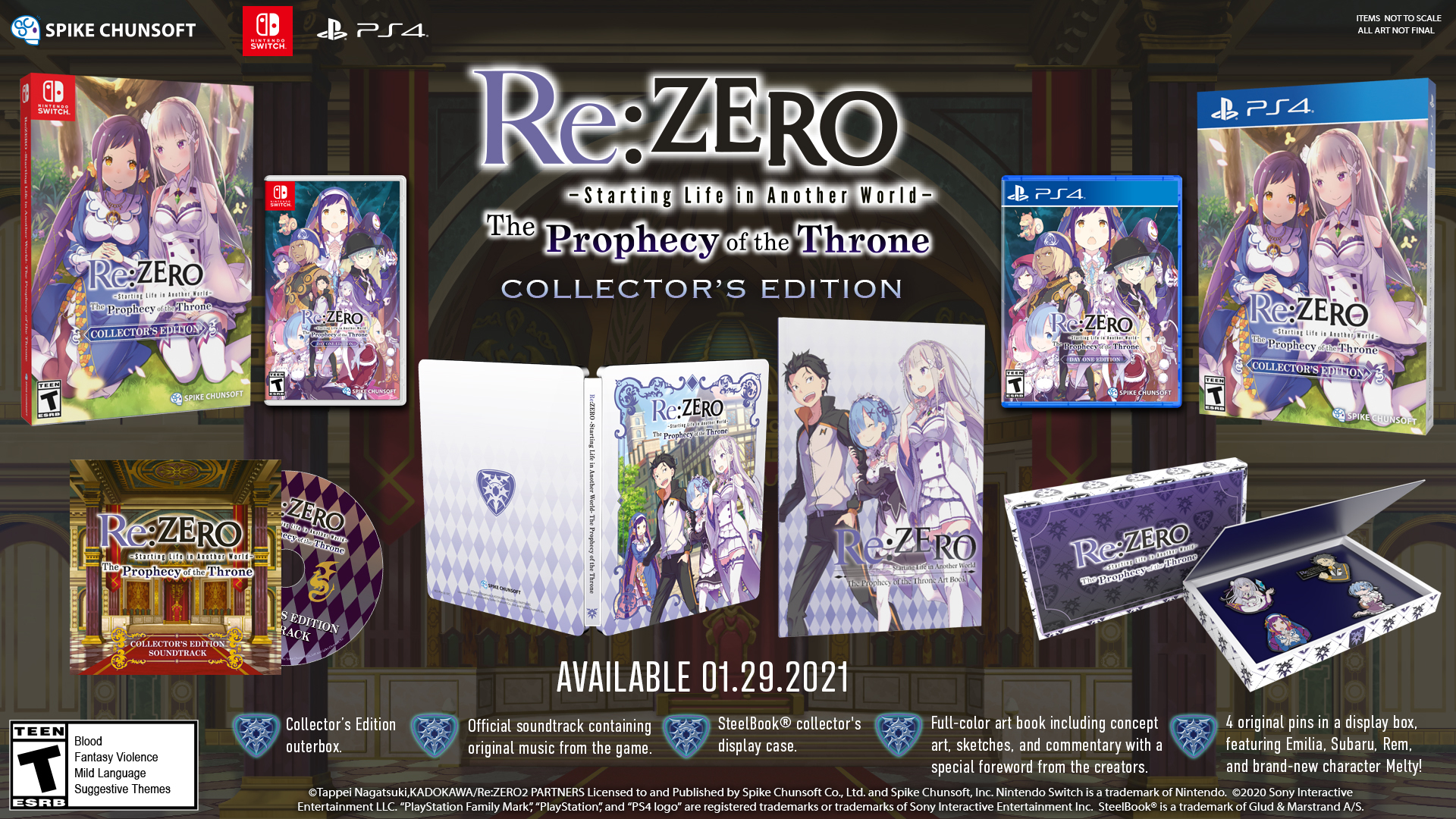 Voice Over:
| | |
| --- | --- |
| Character | Cast |
| Subaru Natsuki | Sean Chiplock |
| Emilia | Kayli Mills |
| Puck | Erica Mendez |
| Ram | Ryan Bartley |
| Rem | Brianna Knickerbocker |
| Beatrice | Kira Buckland |
| Roswaal L. Mathers | Ray Chase |
| Crusch Karsten | Erika Harlacher |
| Ferris | Sarah Williams |
| Wilhelm Van Astrea | Brock Foster Powell |
| Felt | Christine Marie Cabanos |
| Old Man Rom | Richard Brown |
| Kadomon Risch | Patrick Seitz |
| Reinhard Van Astrea | Robbie Daymond |
| Gaston | Chris Tergliafera |
| Rachins | Lucien Dodge |
| Camberley | Arnie Pantoja |
| Anastasia Hoshin | Cassandra Lee Morris |
| Julius Euclius | Alejandro Saab |
| Ricardo Welkin | Imari Williams |
| Mimi | Erica Mendez |
| Hetaro | Kira Buckland |
| Tivey | Julie Ann Taylor |
| Priscilla Barielle | Faye Mata |
| Al | Keith Silverstein |
| Petelgeuse Romanée-Conti | Todd Haberkorn |
| Melty Pristis | Madeline Dorroh |
| Tiga Rauleon | Aleks Le |
| Sakura Element | Suzie Yeung |
| Salum | Kaiji Tang |
| Pooka | Jackie Lastra |
| Wolf | Kai Jordan |
Argomenti correlati a:
Re:ZERO -Starting Life in Another World- The Prophecy of the Throne: trailer personaggi, info pre-order e altre novità
---