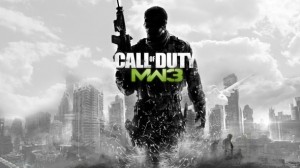 Dopo diversi mesi per gli appassionati di Call of Duty abbiamo acclamato Call of Duty: Modern Warfare 3 che ora è disponibile in in tutto il mondo. Insieme a questo lancio, abbiamo anche il rivoluzionario social networking Call of Duty Elite, progettato per più di 30 milioni di Call of Duty appassionati che possono godere il gioco.L'invasione di Call of Duty: Modern Warfare 3 è iniziato con oltre 13.000 negozi in città di tutto il mondo come Sydney, Londra o New York per essere i primi ad accoglierlo.
Co-sviluppato da Infinity Ward e Sledgehammer Games , 'Modern Warfare 3' offre uno spettacolo, tra cui una intensa campagna single-player che raccoglie gli eventi sviluppati in 'Call of Duty: Modern Warfare 2', e estende ad una nuova guerra che include inoltre miglioramenti a operazioni e alla modalità Survival. Il multiplayer è stato migliorato, con nuove opzioni, modalità, armi, eventi del team da non perdere.
Questo gioco è classificato con PEGI +18 . Il gioco è disponibile per il sistema di videogiochi e intrattenimento Xbox 360 di Microsoft, il sistema di computer entertainment, PlayStation 3 e PC . Call of Duty: Modern Warfare 3 per Nintendo Wii è stato sviluppato da Treyarch e lo sviluppo della versione per Nintendo DS è stata prodotta da n-Space.
Argomenti correlati a:
Ora disponibile Call of Duty: Modern Warfare 3
---