Direttamente dalla Konami apprendiamo la nuova demo e tutti i nuovi filmati video gameplay PS4 di Metal Gear Solid 5: The Phantom Pain. Inoltre, arrivano conferme ufficiali relativamente all'uscita del gioco, che verrà lanciato il prossimo anno, ossia non prima del 2015.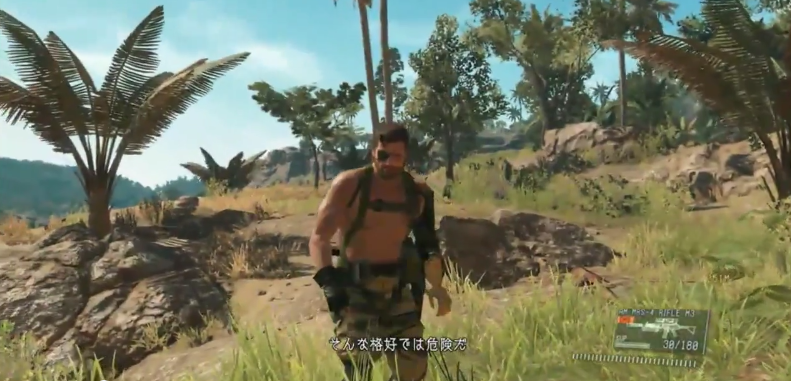 I nuovi video demo di Metal Gear Solid 5: The Phantom Pain sono ricchissimi di contenuti che consentono di valutare al meglio il nuovo gioco della Konami e aumentano ancora di più il sentimento di attesa di tutti i fan di questo classico dei videogames. La demo di 20 minuti, che è stata rivelata dal regista Hideo Kojima al TGS, mostra Snake e il cecchino silenzioso come si insinuano attraverso una zona della giungla e si arrampicano attraverso pareti rocciose, raggiungendo luoghi irti e poco propensi ad accogliere gli avventurieri.
[gard]
Quiet sembra anche essere d'aiuto per Snake durante la missione, fornendo overwatch e fuoco di copertura al tempo stesso, consentendo al protagonista di avanzare illeso. Tempo dinamico è esibito, anche, con la pioggia che comincia a cadere in tutta la foresta parzialmente, attraverso la missione.
Eurogamer riporta che un rilascio di Metal Gear Solid 5: The Phantom Pain per il 2015 è stato confermato da Kojima e a metà strada la demo, anche se una data più specifica non è stata confermata.
[gard]
Un nuovo trailer è stato rilasciato da Konami, inoltre, ma se non si ha una conoscenza base di giapponese, non aspettatevi di riconoscere quello che in realtà sta avvenendo nel video gameplay di Metal Gear Solid 5: The Phantom Pain.
ECCO I VIDEO GAMEPLAY DEMO DI METAL GERA SOLID V: THE PHANTOM PAIN

Argomenti correlati a:
Metal Gear Solid 5: The Phantom Pain, nuova demo (video) e data uscita confermata
---