Fruitbat Factory conferma la data di uscita su PC della Visual Novel Mistery oscura sulla fine del mondo  il nostro romanzo visivo di mistero oscuro in arrivo MAMIYA – A Shared Illusion of the World's End di Kenkou Land. Verrà rilasciato su Steam e altri store il 30 aprile 2021 . 
Sviluppato da Kenkou Land, MAMIYA racconta la storia di un gruppo di giovani uomini che lottano contro la paura esistenziale prima della fine del mondo.
Story 
Tokyo, durante l'anno in cui si profetizzava la fine del mondo. Mentre ci aggrappavamo alla realtà, troppo smidollati per buttare via le nostre vite insieme, abbiamo incontrato Mamiya.
Al funerale di un amico, l'intera folla piangeva e piangeva, mentre pensavamo tra noi che la morte di una sola persona non avesse alcun impatto significativo sul mondo in generale.
Abbiamo dormito, ci siamo svegliati e abbiamo affrontato la stessa routine quotidiana di sempre. Almeno, è così che avrebbe dovuto essere.
Poi è apparsa Mamiya …
Prima ancora che ce ne rendessimo conto, la misteriosa bambina di nome Mamiya si era fatta strada nella nostra vita quotidiana. Lentamente, ma inesorabilmente, sono diventati una sorta di supporto emotivo. Ci avevano portato su una nuova strada.
Un percorso che ci avrebbe sicuramente portato alla morte …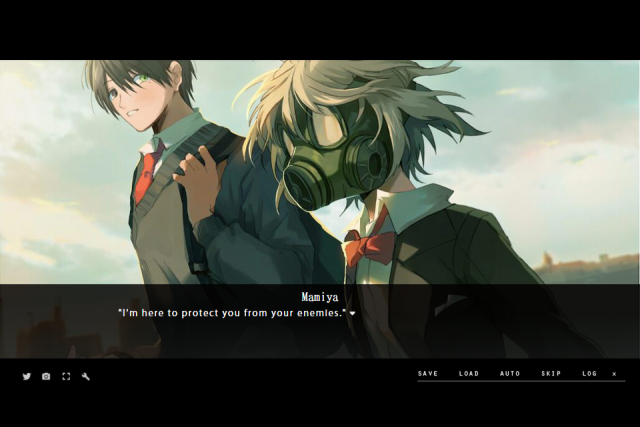 Caratteristiche del gioco
Un romanzo visivo fantasy apocalittico
Tempo di riproduzione stimato di 15-25 ore
6 finali diversi
83 illustrazioni uniche
MAMIYA è stato tradotto da Conjueror e Andrew Hodgson e curato da Gerejei. Sarà disponibile in inglese e giapponese.
Argomenti correlati a:
MAMIYA – A Shared Illusion of the World's End, Visual Novel oscura e misteriosa, in arrivo a fine mese per PC
---