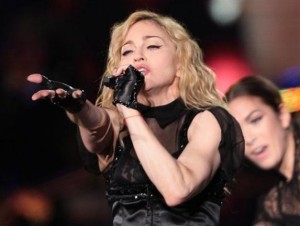 Madonna, che ha venduto oltre 300 milioni di dischi, si esibirà durante l'intervallo del Super Bowl a Indianapolis. La NFL e la NBC ha annunciato che domenica durante il gioco Detroit-New Orleans la cantante sarà vita allo spettacolo.

Questo evento è l'attrazione musicale dell'anno, con più di 162 milioni di persone degli Stati Uniti per vedere le prestazioni del cantante.Madonna e gli altri artisti si uniranno come hanno fatto già Bruce Springsteen & The E Street Band, Prince, U2, Paul McCartney, The Who ei Rolling Stones durante i recenti Super Bowls.
Madonna, attualmente in studio a lavorare su un nuovo album, ha un nuovo film "W.E.", che ha diretto, scritto e prodotto e sarà disponibile anche a livello nazionale due giorni prima dell'evento e quindi ci sarà anche modo per lei di pubblicizzare questo progetto ad un vasto pubblico in tv.
Argomenti correlati a:
Madonna : esibizione primo tempo di Super Bowl
---