Il simulatore di guerra classica Romance of the Three Kingdoms: The Legend of CaoCao arriva su dispositivi mobili. Il gioco che simula conflitti strategici Romance of the Three Kingdoms: The Legend of CaoCao è ora disponibile in tutto il mondo per iPhone e Android.
Romance of the Three Kingdoms: The Legend of Caocao (RTK) di Thingsoft, remake del classico gioco di ruolo a turni simulativo di strategie belliche per dispositivi mobili di NEXON Korea Corporation, affiliata a NEXON Co., Ltd. ("Nexon") (3659.TO), leader mondiale nello sviluppo di giochi mobile online free–to–play, è disponibile oggi in tutto il mondo. I giocatori desiderosi di prendere d'assalto i bastioni nemici possono ora scaricare il gioco su Google Play e App Store.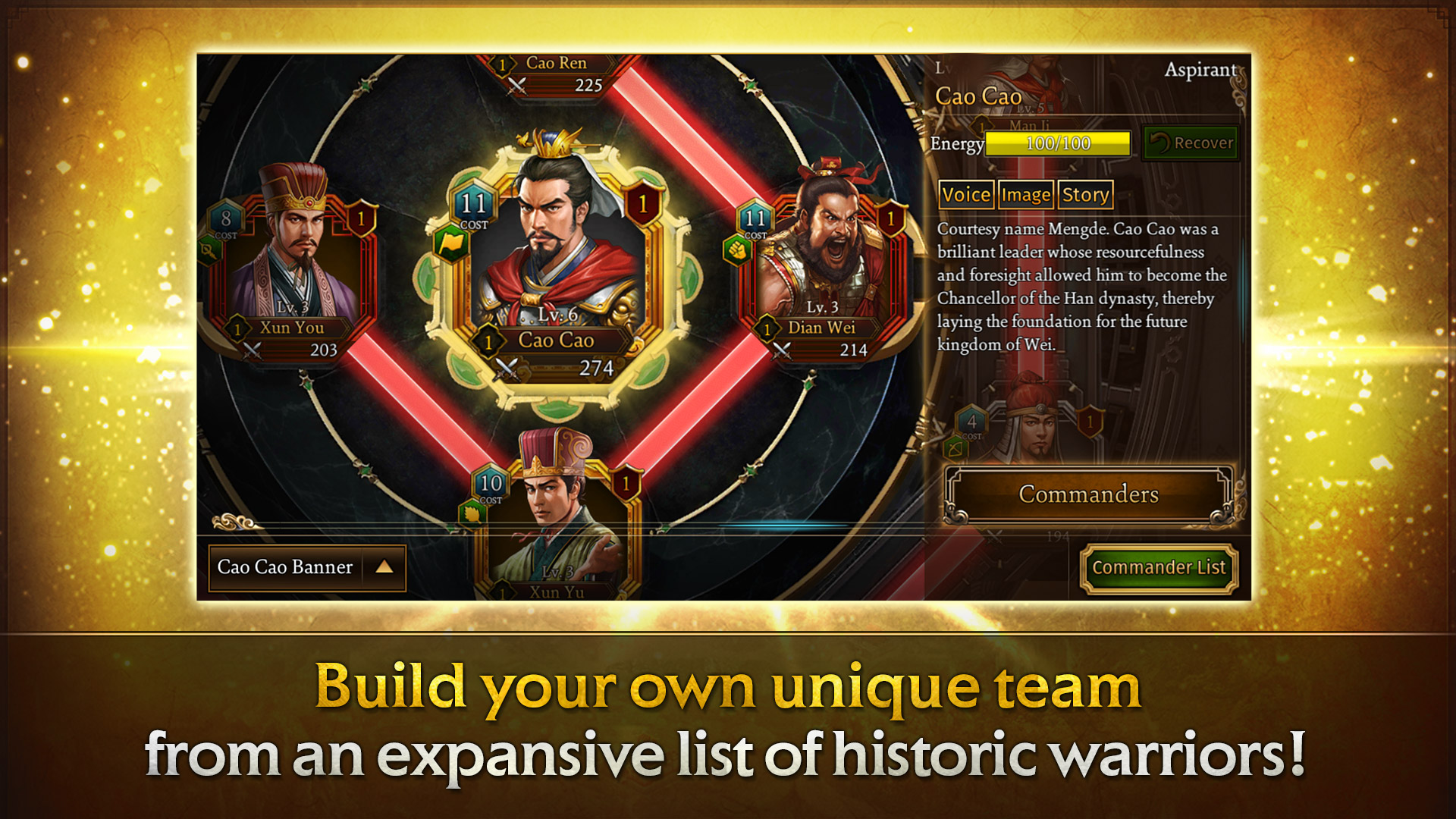 Basato sull'acclamata serie Romance of the Three Kingdoms, le meccaniche complesse e il gameplay avvincente di RTK: The Legend of Caocao invitano i giocatori a unirsi a CaoCao nella sua leggendaria impresa di dominare i rinomati Tre Regni. I giocatori dovranno assemblare una squadra d'elite di commilitoni e rievocare le imprese di personaggi leggendari per sconfiggere nemici formidabili. Le caratteristiche del lancio di RTK includono:
Gameplay di Strategia Complessa – Sviluppa una strategia ingegnosa e metti alla prova tattiche ingannevoli contro una potente IA e gli altri Warlord. Unisci i controlli e le meccaniche semplici per ribaltare l'esito di scontri senza speranza in modo da sconfiggere nemici terrificanti;
Combattimento Retro per il Giocatore Moderno – Affronta battaglie cruciali in ciascuno dei Tre Regni nella Modalità Storia. Coopera con gli amici per espandere l'impero o sfida altri Warlord nel difficile sistema di combattimento asincrono PvP;
Eventi di lancio speciali – Festeggia il rilascio in tutto il mondo di RTK con una serie di eventi e ricevi oggetti preziosi del valore di oltre 800 dollari per dare il via a una campagna di successo, tra cui:
14 giorni di Ricompense – Effettua il log-in dopo giovedì 22 febbraio per ricevere regali come:
1,000,000 Rations
1,000,000 Silver Coins
5,500 Gongji
3,000 Gold Coins
50 Tokens
50 Scrolls
120 Artificial Pieces
1 Treasure Voucher di livello 6 o 7
Evento di Completamento della Missione – I Warlord che completeranno la "Missione" 20, 50, 80 o 120 volte otterranno oggetti rari;
Evento Promozione del Comandante – Promuovi i comandanti a vari livelli e ricevi importanti ricompense;
Evento di Raggiungimento del Rank – Raggiungi il rank Warlord per ottenere regali utili;
Celebrazione del primo mese di lancio – Accedi al gioco per collezionare vari premi durante il mese del lancio del gioco.
RTK: The Legend of Caocao è disponibile ora gratuitamente per giocare in tutto il mondo su iPhone e Android.
Fonti: Nexon, Sworfish-PR
Argomenti correlati a:
Il simulatore di guerra classica Romance of the Three Kingdoms: The Legend of CaoCao arriva su dispositivi mobili
---