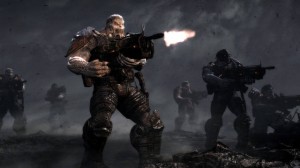 Il primo contenuto scaricabile per Gears of War 3 è stato rilasciato poche ore fa dopo una serie di problemi tecnici. Il pacchetto aggiunge nuove mappe multiplayer per l'aggiunta di personaggi, oggetti ed extra per la modalità Orda, che permette a cinque giocatori che combattono insieme di sopravvivere a ondate costanti delle forze di Locuste.Alcuni contenuti di questa mappe multiplayer scaricabili, tre free-si uniranno a Gears of War 3 il giorno del Ringraziamento (fine novembre).Ulteriori contenuti non saranno gratuiti.
Problemi tecnici "nel DLC
Tuttavia,i problemi tecnici inaspettati hanno ritardato il rilascio di questo contenuto di alcune ore. I giocatori possono accedere ai loro extra: tre mappe multiplayer, tre personaggi giocabili, armi, nuove fortificazioni per l'Orda e 250 Player Points per i risultati conseguiti.Tutto è pronto per gli extra di Gears of War 3.Epic Games ha deciso di regalare ai giocatori un pacchetto di mappe, incluse quelle dello Horde Command Pack, intitolato Versus Booster Map Pack.
Argomenti correlati a:
Gears of War 3 avrà mappe gratuite
---