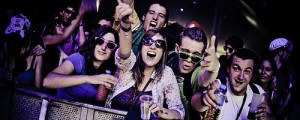 L'estate è ormai alle porta a Barcellona e con essa sta per arrivare la stagione dei festival musicali. Il programma è come sempre molto denso e solo quello riguardante la metropoli catalana, comprende eventi del calibro del Primavera Sound, del Sónar e del Cruilla. Per chi vuole assistere a uno o più di questi eventi musicali, consigliamo di fare un'occhiata ai voli low cost trovati su Skyscanner.it con destinazione Barcellona, il cui aereoporto è ben servito da tutta Italia con diversi voli diretti (ce ne sono tantissimi dall'aereoporto di Malpensa) e indiretti.
Oltre ai succitati festival, l'estate barcellonese vedrá esibirsi in data 8 e 9 giugno The Stone Roses alla sala Razzmatazz, oltre che i Portishead  il 22 e 23 giugno, prima al Poble Espanyol e il giorno dopo sempre al Razzmatazz.
Di seguito ecco quello un riassunto dei prossimi festival estivi di Barcellona, con tanto di date, prezzi e soprattutto i gruppi confermati.
Primavera Sound
Barcellona dal 30 maggio al 3 giugno
Prezzo: 195€
Artisti: The Afghan Whigs, Björk, Wilco, The Cure, Death Cab For Cutie, Refused, Archers of Loaf, Death In Vegas, Marianne Faithfull, Mudhoney, Melvins, The XX, Girls, Godflesh, Napalm Death, Yo La Tengo, Franz Ferdinand, Veronica Falls, Lee Ranaldo, Sleepy Sun, Mazzy Star, Thee Oh Sees, Beirut, The Chameleons, The Dirty Three, Beach House, OFF!, Sharon Van Etten, The Wedding Present, Spiritualized, Black Lips, Shellac, Other Lives, Real Estate, The War On Drugs, Big Star's Third, Atlas Sound, Saint Etienne e I Break Horses.
IMPORTANTE: Sul sito ufficiale è stato reso noto che sono in vendita alcuni biglietti falsi e dunque si consiglia d'acquistarli solo nei punti autorizzati, ovvero: Codetickets, Atrapalo.com, PayPal, Seetickets UK, Fnac Francia, Servicaixa Adidas Originals e la pagina su Facebook.
Sónar
Barcellona dal 14 al 16 giugno
Prezzo: da 60 a 155€ in base al numero di giorni
Artisti: Lana Del Rey, New Order, The Roots, Die Artwoord, Fatboy Slim, Hot Chip, Deadmau5, James Murphy, LA Vampires, The Suicide of Western Culture, Laurent Garnier, Friendly Fires, Mouse On Mars, Squarpusher, Richie Hawtin, Cornelius, John Talbot, Austra, Maya Jane Coles e Supersilent.
Cruïlla BCN
Barcellona dal 6 al 7 Luglio
Prezzo: da 40 a 100€ in base al numero di giorni
Artisti: Iggy & The Stooges, Cypress Hill, Sharon Jones and The Dap Kings, Gogol Bordello, The Specials Qumi Portet, Linton Kwesi Johnson, Nneka, Bigott, Lenacay e La Pegatina.
Argomenti correlati a:
Festival musicali estivi a Barcellona
---