Warhammer 40,000: Chaos Gate – Daemonhunters raduna le forze dei Cavalieri Grigi con l'arrivo di Castellan Garran Crowe, pronto a prestare la sua indomabile volontà a Strike Force Xiphos nella loro ricerca di The Bloom.
Il castellano è un'anima incorruttibile, paladino della Confraternita dei Purifer e guardiano della Lama Nera di Antwyr, una reliquia di un male inimmaginabile che eternamente lo schernisce e lo tenta con sussurri del potere illimitato del Caos. Non importa quanto sia disperata l'ora, la determinazione di Crowe non si arrende mai, e quindi solo lui deve sopportare questo fardello, fino al giorno della sua morte.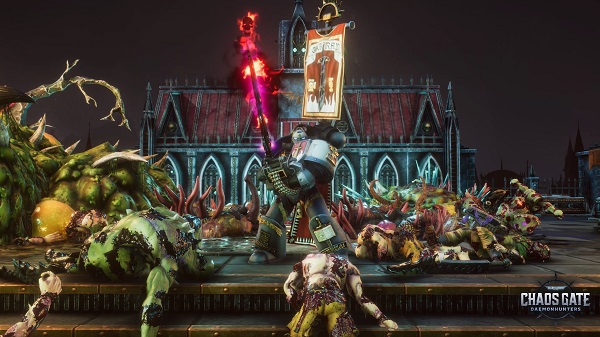 I giocatori che preordinano l'edizione Castellan Champion di Warhammer 40,000: Chaos Gate – Daemonhunters potranno accedere a Garran Crowe durante la campagna principale, dove si unirà alla tua squadra dopo un evento specifico nel gioco. Il castellano brandisce la Black Blade of Antwyr e arriva con una suite completa di abilità, accumulate in molte campagne.
Inoltre, i possessori dell'edizione Castellan Champion riceveranno anche una copia della colonna sonora ufficiale del gioco.
I preordini sono ora disponibili per Warhammer 40,000: Chaos Gate – Daemonhunters (Castellan Champion Edition), che uscirà il 5 maggio 2022 su PC tramite Steam ed Epic Games Store 
Argomenti correlati a:
Castellan Garran Crowe comanda il campo di battaglia in Warhammer 40,000: Chaos Gate – Daemonhunters (Castellan Champion Edition)
---