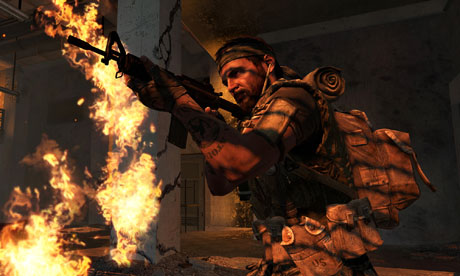 Microsoft questo mese con Call of Duty: Black Ops la Xbox 360 ha detenuto il primato di successo,per la settimana del 8 novembre, Call of Duty: Black Ops si è classificato come il numero 1 per Xbox Live sulla base di utenti unici.Modern Warfare 2 classificato n. 2 e Halo: Reach al terzo posto nello stesso periodo.
Activision Blizzard ha dichiarato nel novembre Call of Duty: Black Ops ha generato $ 650 milioni nei primi cinque giorni di vendita in territori a livello mondiale.
Ecco lo sguardo completo alla classifica :
Per conoscere tutte le prime venti posizioni della classifica, proseguite nella lettura dell'articolo.
1           CALL OF DUTY: BLACK OPS     ACTIVISION
2            ASSASSIN'S CREED: BROTHERHOOD     UBISOFT
3            NEED FOR SPEED: HOT PURSUIT     EA GAMES
4            FIFA 11     EA SPORTS
5            JUST DANCE 2     UBISOFT
6            WII PARTY     NINTENDO
7            WII SPORTS RESORT     NINTENDO
8            PROFESSOR LAYTON AND THE LOST FUTURE     NINTENDO
9            KINECT SPORTS     MICROSOFT
10          NEW SUPER MARIO BROS. WII     NINTENDO
11          WII FIT PLUS     NINTENDO
12          THE SIMS 3     EA GAMES
13          FALLOUT: NEW VEGAS     BETHESDA SOFTWORKS
14          WWE SMACKDOWN VS RAW 2011     THQ
15          STAR WARS: THE FORCE UNLEASHED II     LUCASARTS
16          MEDAL OF HONOR     EA GAMES
17          F1 2010     CODEMASTERS
18          SONIC COLOURS     SEGA
19          FOOTBALL MANAGER 2011     SEGA
20          HARRY POTTER: THE DEATHLY HALLOWS PART 1     EA GAMES
Argomenti correlati a:
Call of Duty: Black Ops per Xbox 360 da primato
---