La scorsa settimana ci eravam lasciati con Football Manager 2011 in vetta alle vendite in UK, questa settimana Call of Duty Black Ops entra direttamente in testa nella classifica vendite in UK, freddando la concorrenza e totalizzando vendite multimilionarie già dal primo giorno di lancio, ricordiamo le 5,6 milioni di copie vendute al day one e gli oltre 360 milioni di dollari guadagnati nel solo giorno di lancio.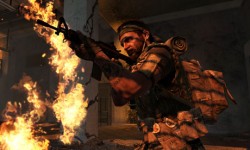 Posto qui la classifica della settimana che termina il 14 novembre e che vede tra le altre cose Fifa 11 che rimane aggrappata con i denti al secondo posto mentre Football Manager 2011 perde posizioni e scivola inesorabilmente al quinto posto.
1. Call of Duty: Black Ops (Treyarch, Activision)
2. FIFA 11 (EA Sports, EA)
3. Just Dance 2 (Ubisoft, Ubisoft)
4. Kinect Sports (Rare, Microsoft Game Studios)
5. Football Manager 2011 (Sports Interactive, Sega)
6. Professor Layton and the Lost Future (Level 5, Nintendo)
7. Fallout: New Vegas (Obsidian Entertainment, Bethesda)
8. New Super Mario Bros. Wii (Nintendo, Nintendo)
9. The Sims 3 (EA, EA)
10. Star Wars: The Force Unleashed II (LucasArts, LucasArts)
Altro dato interessante è la presenza di Kinect Sports, il pubblico apprezza il nuovo "controller" Microsoft
Argomenti correlati a:
Call of Duty Black Ops in vetta alle classifiche UK!
---