Classic Hack 'n' Slash Blades of Time arriva su Nintendo Switch: la Remastered Time Warping Adventure Game aggiunge modalità Hard e Multiplayer. Ad annunciarlo dalla stessa Gaijin Entertainment: Blades of Time per Nintendo Switch è ora disponibile e presenta tutto ciò che ha reso l'originale uno dei preferiti dai fan: la cacciatrice di tesori dall'aspetto freddo Ayumi si scontra con orde di mostri usando spade, armi da fuoco, abilità magiche e time-warping. Il sistema di combattimento aggiornato, che sfrutta appieno i controlli intuitivi della Switch, trasforma i classici Blades of Times in un'esperienza davvero moderna che manterrà i fan della serie e dei nuovi giocatori catturati per ore.
GUARDA L'ANNUNCEMENT TRAILER
Anche la versione per Nintendo Switch presenterà ancora una volta la modalità Hard preferita dai fan che sarà particolarmente apprezzata dagli appassionati di giochi di azione per console ad alto ritmo. Era disponibile solo nella versione PS3 del gioco come una caratteristica extra disponibile dopo aver completato il gioco, ma ora è pronto per l'azione fin dall'inizio. Questa modalità offrirà un'esperienza completamente nuova, poiché i nemici e i boss non solo infliggono più danni e hanno più salute, ma iniziano anche a utilizzare nuove tattiche e abilità rispetto al normale gioco. Usando tutta la pletora delle meccaniche di battaglia di Blades of Times e le abilità di Ayumi si troverà la chiave per completare il gioco.
Blades of Time utilizza il Dagor Engine, la tecnologia interna utilizzata da Gaijin Entertainment per tutti i suoi giochi. Ora funziona con Nintendo Switch e supporta l'API Vulkan multi-piattaforma per garantire che sia la qualità visiva che la frequenza FPS rimarranno alte anche su un dispositivo mobile, il che è particolarmente importante per titoli d'azione dal ritmo serrato come Blades of Time . L'abilità di time-warping di Ayumi si traduce in diversi cloni del personaggio esistente e che agiscono simultaneamente nella stessa scena, il che aumenta il carico sul motore grafico, ma il gioco continua a funzionare senza intoppi.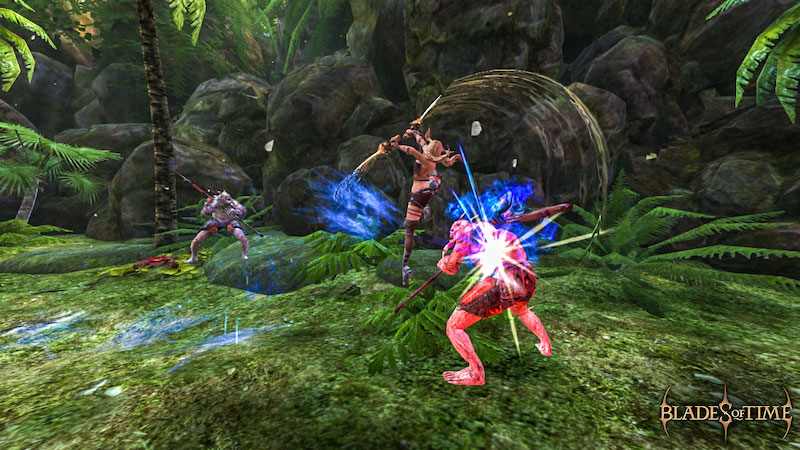 "Blades of Time è il primo gioco di Gaijin Entertainment sviluppato per Nintendo Switch, ma speriamo non l'ultimo. Ora che abbiamo la tecnologia per produrre più giochi per la console, vediamo un grande potenziale nel mercato Switch Nintendo", – ha dichiarato Kirill Yudintsev, direttore creativo di Gaijin Entertainment.
Argomenti correlati a:
Blades of Time, il classico hack 'n'slash arriva su console Nintendo Switch
---