Alfred Hitchcock – Vertigo, Microids il gioco di avventura narrativa di Pendulo Studios, arriva su console. Il titolo sarà infatti lanciato su PlayStation 5, PlayStation 4, console Xbox One, Xbox Series X|S e Nintendo Switch il 27 settembre. Le versioni per console saranno disponibili anche nei negozi. Liberamente basato sull'omonimo film del grande Hitchcock, il gioco offre una grande esperienza narrativa ed è già disponibile su PC (Steam, GOG, Epic Games Store).
Alfred Hitchcock – Vertigo racconta la travagliata storia di Ed Miller, uno scrittore uscito indenne da un incidente d'auto nel Brody Canyon, in California. Anche se non è stato trovato nessuno all'interno del rottame dell'auto, Ed insiste sul fatto che stava viaggiando con la moglie e la figlia. Traumatizzato da questo evento, comincia a soffrire di forti vertigini e attraverso la terapia cercherà di scoprire cosa è realmente accaduto in quel tragico giorno.
Ecco il trailer di annuncio:
La Limited Edition include:
La standard edition del gioco perPS5, PS4, Xbox One & Xbox Series X|S o Nintendo Switch
L'artbook ufficiale di 48 pagine "The Art of: Alfred Hitchcock- Vertigo" anche in versione digitale
Il soundtrack originale, compost da Juan Miguel Martín Muñoz (Blacksad, Yesterday Origins)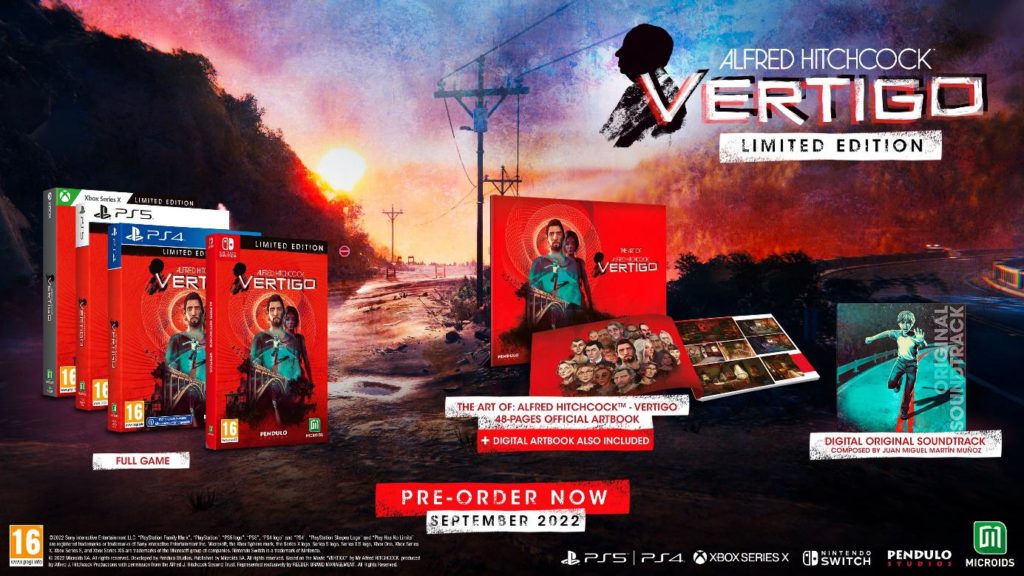 Feature:
Una storia esclusiva e originale sull'ossessione, la memoria, la manipolazione e la follia, liberamente ispirata al capolavoro di Alfred Hitchcock, Vertigo (in italiano La Donna che Visse Due Volte).
Una potente esperienza narrativa, che rende omaggio alle tecniche visive e di narrazione di Hitchcock.
Una indagine da vivere attraverso il punto di vista di tre personaggi, ognuno ha una storia diversa da raccontare.
La possibilità di esplorare diverse linee temporali per fare un controllo incrociato degli eventi e separare la realtà dai ricordi ingannevoli.
Alfred Hitchcock – Vertigo è sviluppato da Pendulo Studios, il team che ha fatto la fortuna di titoli come Runaway (2003), The Next Big Thing (2011), Yesterday (2012), Yesterday Origins (2016) e Blacksad: Under the Skin (2019). Il gioco è già disponibile su PC (Steam, GOG e Epic Games Store) e arriverà su PS5, PS4, Xbox Series X|S, Xbox One e Nintendo Switch il 27 settembre.
Argomenti correlati a:
ALFRED HITCHCOCK – VERTIGO arriva su console il 27 settembre – Video
---