dj2 Entertainment  e Terrible Posture  Games  annunciano oggi che stanno collaborando per adattare il videogioco 3 out of 10 per la televisione. 
Pubblicizzata come la prima sitcom giocabile a episodi, 3 su 10 si  concentra sulle buffonate degli Shovelworks Studios mentre il suo team di eccentrici lotta per creare un gioco che ottenga un punteggio superiore a 3 su 10. Il nuovo assunto, Midge, deve adattarsi rapidamente a un posto di lavoro che include reali da battaglia in tutto l'ufficio, salti di dimensione alimentati da caffeina, droni armati di coltelli e una creatura aliena nel congelatore.
3 su 10 della prima "stagione" hanno aperto la strada a una nuova forma di narrazione interattiva, rilasciando nuovi episodi gratuitamente su base settimanale, dando ai giocatori il pieno controllo per avanzare velocemente, riavvolgere, selezionare scene e altro ancora. L'innovativa miscela di storia e gameplay, insieme a una scrittura ferocemente divertente e un cast memorabile di sviluppatori di giochi disadattati, ha superato 9 milioni di utenti su PC, Nintendo Switch e console Xbox. La seconda stagione di 3 su 10 ha  debuttato l'8 aprile 2021 su Epic Games Store per PC come una raccolta degna di nota di tutti e cinque gli episodi.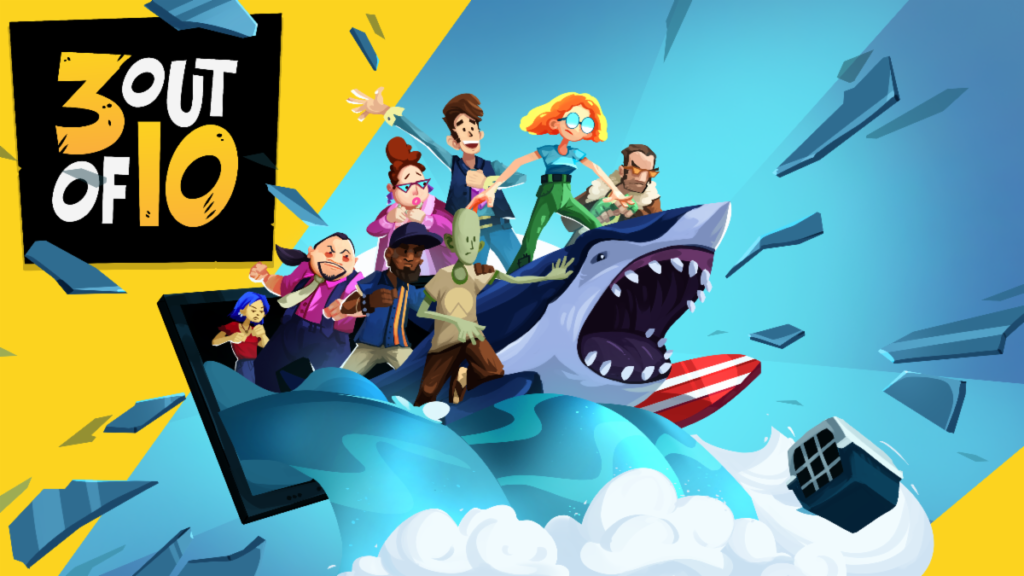 "In qualità di sviluppatori di giochi, volevamo celebrare questo settore stravagante che amiamo in un modo che anche i non giocatori possono apprezzare", ha affermato Joe Mirabello, direttore creativo di Terrible Posture Games. "A tal fine, la nostra satira dell'industria dei videogiochi ha storie, personaggi, barzellette e ritmo ispirati alle tradizioni delle sitcom. Siamo così entusiasti che dj2 condivida la nostra visione a lungo termine. "
dj2, i produttori del successo acclamato dalla critica del 2020,  Sonic the Hedgehog , e il suo imminente sequel, sono anche in pre-produzione su una serie animata di  Tomb Raider e stanno sviluppando un adattamento TV di  Disco Elysium.
"Non c'è mai stata una proprietà crossmediale come 3 su 10 ", aggiunge il CEO di dj2 Dmitri M. Johnson. "Avendo appena prodotto il primo reality show interattivo sull'intelligenza artificiale per Facebook Watch, siamo entusiasti di sviluppare la prima sitcom interattiva per la TV. Sostenere l'umorismo nei giochi è difficile: Terrible Posture lo ha inchiodato ".
Argomenti correlati a:
3 out of 10, il gioco arriverà sulla TV
---